Posted on February 12, 2018 by The VRG Blog Editor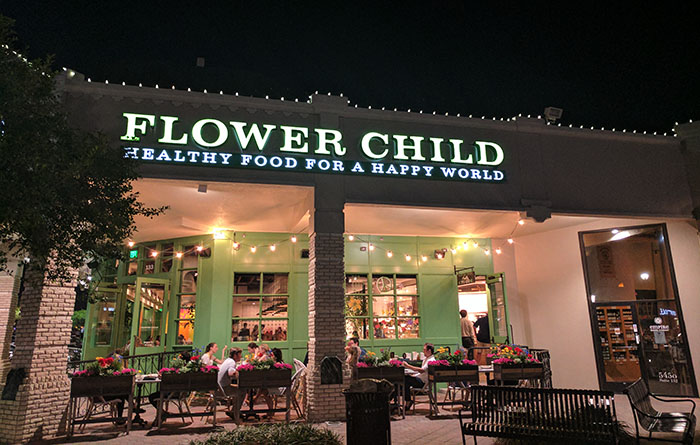 Flower Child restaurants has locations in Arizona, California, Nevada, Georgia, and Texas. Some options listed as vegan are: Avocado Hummus, Spicy Japanese Eggplant with Thai Basil and Cashew, and Red Chili Glazed Sweet Potato with Bok Choy & Sesame Seed.
Bowls include Wild Mushroom Pho with rice noodle, sweet onion, bok choy, jalapeno, savoy cabbage, Thai basil, fall spiced dashi; Thai Cashew Quinoa with zucchini, snap pea, celery, onion, shiitake mushroom, jalapeño, Thai basil, cashew, red quinoa; Vegan Poke with marinated beet, avocado, pickled mushroom, cucumber, radish, wasabi pea, smoked dulse, brown rice, spicy ponzu; Mother Earth with ancient grains, sweet potato, portobello mushroom, avocado, cucumber, broccoli pesto, charred onions, leafy greens, red pepper miso vinaigrette, hemp; and Forbidden Rice with black pearl, red japonica, snap pea, bok choy, broccoli, carrot, onion, toasted sesame, red chili hoisin. Also featured is Thai Dye Wrap with spicy tofu, Thai basil, avocado, carrot, daikon radish, cilantro, and snap pea.
For more information, see:
http://www.iamaflowerchild.com/
For information about vegetarian and vegan restaurants, see:
VRG Online Veggie Restaurant Guide
The contents of this posting, our website and our other publications, including Vegetarian Journal, are not intended to provide personal medical advice. Medical advice should be obtained from a qualified health professional. We often depend on product and ingredient information from company statements. It is impossible to be 100% sure about a statement, info can change, people have different views, and mistakes can be made. Please use your best judgement about whether a product is suitable for you. To be sure, do further research or confirmation on your own.