Posted on April 15, 2016 by The VRG Blog Editor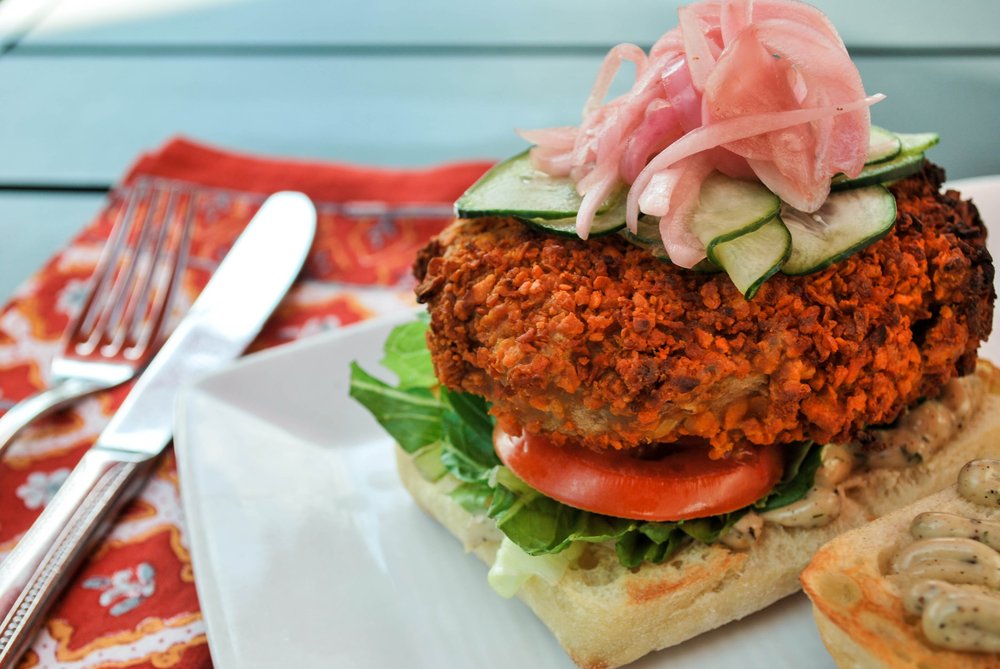 Great Sage is a fantastic vegan restaurant located in Clarksville, Maryland that is part of Conscious Corner–a family of businesses dedicated to promoting healthy and mindful living by focusing on animal welfare, the environment, and community. Great Sage supports non-profit organizations by hosting monthly Benefit Days, where 10% of the proceeds are donated to a non-profit. We are thrilled to announce that on April 17th, 2016, Great Sage is hosting a Benefit Day for The Vegetarian Resource Group!
Enjoy their creative cuisine including brunch items such Blueberry Cinnamon-Vanilla Glaze Pancakes or a Breakfast Sandwich. For lunch you can try Hearts of Palm "Crabcake," Jerk Tofu Wrap, Cajun Chicken Sandwich, a Falafel Wrap, and more. For dinner you can order Buffalo Bites, Artichoke Spinach Dip, Thai Peanut Curry, Adult Mac' & Cheese, 'Chorizo' and Potato Tacos, plus many other menu items. Of course, you don't want to forget dessert. Choose from Carrot Cake, Raw Key Lime Pie, Chocolate Lava Cake, Tart Cherry Crisp, and more.
VRG volunteers will be near the front door. Be sure to say hello if you attend this event.
For more details see: http://greatsage.com/vrg-benefit-day-2/