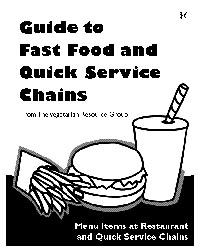 Guide to Fast Food
Vegetarian Menu Items at Restaurant and Quick Service Chains
2004 Edition
24 pages
$6

Price includes shipping (sorry, US only)! (Outside US inquire about shipping charges. Credit cards preferred.)

Please note that the Guide to Fast Food is currently out-of-stock. We are working on an updated version. Thank you for your patience.
If you don't use meat, what can you eat while on the road? The Vegetarian Resource Group has answered this question with a 24-page Guide to Vegan and Vegetarian Options in Fast Food and Quick Service Chains.

© 1996- The Vegetarian Resource Group
PO Box 1463, Baltimore, MD 21203
(410) 366-8343   Email:
vrg@vrg.org
The contents of this website and our other publications, including Vegetarian Journal, are not intended to provide personal medical advice. Medical advice should be obtained from a qualified health professional. We often depend on product and ingredient information from company statements. It is impossible to be 100% sure about a statement, info can change, people have different views, and mistakes can be made. Please use your own best judgment about whether a product is suitable for you. To be sure, do further research or confirmation on your own.
Web site questions or comments? Please email vrg@vrg.org.