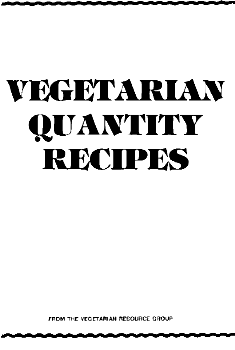 Quantity Recipes
by Debra Wasserman, Sally Clinton, and Reed Mangels, Ph.D., R.D.
ISBN 0-931411-08-4
28 recipes


Click Here To Order
Or call (410) 366-8343 to order from us directly
28 Vegetarian Quantity Recipes
Each recipe is printed on a separate card.
Recipes provided in servings of 25 and 50
Preparation tips and time-saving suggestions
Nutritional analysis of recipes
Product listing: names and addresses of over 70 companies offering vegetarian food items in institutional sizes, listed alphabetically and by subject.
Recipes do not contain meat, fish, fowl, dairy products, eggs, or honey
Main Dishes

Rigatoni Combination
Turkish Bulgur Dish
Vegetarian Chili
Stir-Fried Vegetables and Tofu (over rice)
Hearty Macaroni Dinner
Refried Beans
Chickpea Balls
Lentil Stew

Burgers and Sandwiches

Rice Burgers
Garbanzo Bean Burgers
Lentil Burgers
Tofu Burgers
Tofu Salad Sandwich
Chickpea Salad Sandwich


Side Dishes

Mexican Succotash
Tofu Fried Rice
Cabbage Saute

Soups

Hot and Sour Soup
Corn Chowder
Cold Tomato Soup

Salads

Rainbow Salad
Apple/Carrot/Raisin Salad

Desserts

Oatmeal Cookies
Coconut Clusters

Breakfast Ideas

Banana Pancakes
Hashed Brown Potatoes
Blueberry Muffins

© 1996-2014 The Vegetarian Resource Group
PO Box 1463, Baltimore, MD 21203
(410) 366-8343   Email:
vrg@vrg.org
Last Updated
April 29, 2003

The contents of this website and our other publications, including Vegetarian Journal, are not intended to provide personal medical advice. Medical advice should be obtained from a qualified health professional. We often depend on product and ingredient information from company statements. It is impossible to be 100% sure about a statement, info can change, people have different views, and mistakes can be made. Please use your own best judgment about whether a product is suitable for you. To be sure, do further research or confirmation on your own.
Web site questions or comments? Please email vrg@vrg.org.