Reviews
Vegan Inspiration
By Chef Todd Dacey
with Jia Patton

Vegan Inspiration is worth purchasing for its creative vegan recipes from many cultures. Try Tempeh Thai Vegetable Salad, Raw Avocado Soup, Spiced Kale, Curried Potato 'Fries,' Indian Pilaf, Quinoa Black Bean Enchiladas, Sesame Butternut Curry, Coconut Carrot Ginger Cookies, Pineapple Date Muffins, Mango Mousse Dream Pie, and so much more.
Throughout the book you'll find many interesting quotations. Please note that nutritional analyses are not provided, although most recipes do not appear to be high in fat.
Vegan Inspiration (ISBN 978-1-57733- 216-9) is 200 pages and published by Blue Dolphin Publishing. The book retails for $22.95 and can be ordered online or in your local bookstore. Reviewed by Debra Wasserman. Click here to purchase a copy.
Fresh: The Ultimate Live-Food Cookbook
By Sergei and Valya Boutenko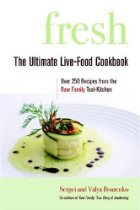 Fresh features more than 250 dishes (most of which are vegan, except for a few that call for honey) prepared without heating or processing and preferably with organic produce. In general, the recipes contain few ingredients and can be prepared rather quickly.
Among the appetizers and finger foods you'll find interesting options such as Fresh Salad Rolls (tomatoes, onions, cashews, thyme, and olive oil wrapped in romaine lettuce leaves), Cranberry-Almond Carrot Salad (made with carrots, fresh basil, dried cranberries, crushed almonds, olive oil, and lemon juice), and Savoy Cabbage Salad (with savoy cabbage, Fuji apples, and raw cashews).
Entrées include Nori Rolls (made with walnuts, sunflower seeds, garlic, celery, olive oil, lemon juice, lemon grass, avocado, bell peppers, scallions, and nori) and Turkeyless Turkey (creatively prepared with almonds, walnuts, carrots, onions, raisins, caraway seeds, and coconut oil).
The desserts are incredible and range from Mango Pudding Pie (with a crust made from pistachios, dried mulberries, and lemon juice and a cream from blended mangos) to Valya's Secret Gooseberry Cheesecake (with a crust made from almond pulp, agave nectar, and gooseberries) to Pińa Colada Bars (prepared with coconut flakes, macadamia nuts, dried pineapple, raisins, and vanilla). You'll also want to sample one of the many smoothie combinations offered.
There is a chapter on marinated and fermented foods with recipes for Kimchi, Pickled Zucchini and Eggplant, and Sauerkraut. In addition, there's another chapter that covers travel foods and wild edibles and provides terrific recipes for crackers, snack mixes, and more.
Fresh includes several color photos and a glossary. Nutritional analyses are not provided, and many of the dishes are not lowfat.
Fresh (ISBN 978-1-55643-708-3) is 216 pages and published by North Atlantic Books. Look for this book online or in your local bookstore. Reviewed by Debra Wasserman. Click here to purchase a copy.
Vegetarian London 2008
By Alex Bourke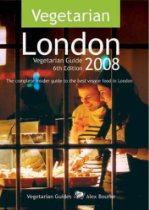 Vegetarian London is an essential purchase for any vegetarian or vegan planning to visit London. A few years ago, we used an earlier edition of this book to find a restaurant featuring vegan organic foods, a vegetarian fast food café, a fantastic falafel bar, and a very vegfriendly health foods shop.
Whether you're in London for a few days or for much longer, the sixth edition of Vegetarian London will help you decide which of the 145 vegetarian restaurants (25 of which are vegan) you'll patronize. The guide also includes 200 more veggie-friendly cafés and restaurants. Maps and cross-references (such as places that carry organically produced food and child-friendly restaurants) make this book extraordinarily useful.
Vegetarian London also includes listings for natural foods stores, hotels and guest houses, vegetarian festivals, and shoe shopping. In short, this is a complete guide to vegetarian living in London.
Vegetarian London 2008 (6th Edition) (ISBN 978-1-902259-08-6) is published by Vegetarian Guides. It has 440 pages and retails for $19.95. Visit to learn how to purchase a copy. Reviewed by Reed Mangels, PhD, RD. Click here to purchase a copy.