Veggie Bits
Miss the Taste of Seafood?
Taste Above's Veggie Crab Cakes are delicious vegan patties made from wheat, onions, potatoes, and spices, but their taste and texture are so authentic that most people wouldn't guess they don't contain shellfish. Each package contains four 2.5-ounce faux crab cakes, so pick up a few boxes the next time you're near your grocer's freezer case. They promise to make appealing appetizers or entrées for your next cookout or beachside party!
To learn more, contact Taste Above's distributor, JB Brands, LLC, at P.O. Box 5305, Portland, OR 97228-5305. You may also call (800) 796-2126 or visit their website at jbbrandsllc.com.
If You Can't Stand the Heat...
Then, reach for a gelato! We have to say "Grazie!" to Soylato, which has introduced non-dairy versions of those Italian ice cream-like treats to the marketplace. These products differ from many other gelatos since they use soy, rather than dairy products, as a prime ingredient. The Soylato website lists 10 varieties - such as vanilla, chocolate, strawberry, mango, peach, blue raspberry, and pistachio - as well as an offer to make any others upon request. Regardless of the flavor, these confections will certainly garner shouts of "Bravo!"
Contact Soylato at 2100 4th Street SW, Waverly, IA 50677, or via phone at (319) 352-4053. Their website is www.soylato.com.
Dress to Impress

Alternative Outfitters is heaven for the fashion-conscious vegan who is looking for stylish apparel, shoes, accessories, bags, and cosmetics. All products are completely vegan, and all beauty products are cruelty-free. While surfing their website, make sure to take a look at their tees and tanks. Some of their cute, organic cotton tops show a happy cow under the statement, "Go Veg! Your animal friends will thank you."
Contact Alternative Outfitters or visit their showroom at 408 South Pasadena Avenue, Suite 1, Pasadena, CA 91105. You can also call them at (866) 758-5837 or visit their website at www.alternativeoutfitters.com.
Written by Erin Smith, VRG Intern.
Hungry Sultan Makes It Easy to Eat Hummus on the Go
No matter where your summer travels take you, make sure you bring along a nutritious snack. Hungry Sultan has introduced a line of mini-meals called Healthy Lunch to Go! Each package includes a single-serving can of ready-to-eat hummus, some Carr's Table Water Crackers, and a spoon, making it easy to scoop and spread their creamy chickpea purée. These convenient, shelf-stable snacks come in four savory varieties- Original, Roasted Garlic, Spicy, and Sun-Dried Tomato.
Contact Hungry Sultan at 14 Rancho Circle, Lake Forest, CA 92630, or via phone at (949) 215-0000. The company's website is www.hungrysultan.com.
Tofutti Without the Trans Fats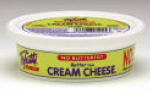 As one of the most famous companies making vegan versions of standard dairy products, it's not surprising that Tofutti now offers nonhydrogenated varieties of its plain Better than Cream Cheese and its plain Sour Supreme vegan sour cream. Both items are as smooth and creamy as their trans fats-containing counterparts, so think about reaching for these the next time you're topping toasted bagels or your favorite Mexican dish.
Write to Tofutti Brands, Inc., at 50 Jackson Drive, Cranford, NJ 07016, or call the company at (908) 272-2400. Their website is www.tofutti.com.
Raw Creations' Sweet Treats
Raw Creations is a Chicago area-based company that makes raw and organic vegan delights without soy, wheat or gluten, GMOs, or processed sugar. Among their scrumptious products are brownies, almond and raisin cookies, and nut-free macaroons. VRG staff members liked the Cacao Cake, with a perfect level of chocolate taste atop a tasty, nut-laden crust, and the Carrot Cheesecake offered the crunch of real organic carrot slivers with every bite. However, the most popular option had to be the Cacao Ganache Tart, which is rich, smooth, and extremely fudgy.
To learn more, contact Raw Creations ® , LLC, at 8400 South Roberts Road, Justice, IL 60458, or via phone at (708) 212-8694. The company's website is www.raw-creations.com.