Book Reviews
The Cancer Survivor's Guide: Foods That Help You Fight Back!
By Neal D. Barnard, MD, and Jennifer K. Reilly, RD

The Cancer Survivor's Guide is a part of The Cancer Project's nutrition education program. It was written for people who have been diagnosed with cancer, but it can give everyone insights into food's role in health.
The first chapters cover foods' role in cancer prevention and survival. Barnard and Reilly promote a low-fat, high-fiber, vegan diet that includes a generous variety of fruits and vegetables. Specific advice is given for people with breast or prostate cancer.
This volume provides detailed information about how to start eating a healthy vegan diet. Practical suggestions include breakfast, lunch, dinner, and snack ideas; shopping suggestions; and tips for revising conventional recipes.
The second half of the book consists of more than 130 vegan recipes. A nutritional analysis is provided for each dish.
While this book would be an especially useful resource for anyone diagnosed with cancer, it could help anyone plan a healthier diet. Of course, as the authors state, all cancer treatments-including the dietary changes discussed in this book-must take into account individual needs and should be discussed with your doctor.
The Cancer Survivor's Guide (ISBN 978-1-57067-225-5) is published by Healthy Living Publications. It has 246 pages and retails for $19.95. Purchase the book online at http://astore.amazon.com/httpwwwvrgorg-20/detail/1570672253 Reviewed by Reed Mangels, PhD, RD.
Chicken Soup
By Jean Van Leeuwen

Upon seeing the title Chicken Soup, one wouldn't think this children's book could be veggie-friendly. Nevertheless, this sweet tale of comic misunderstandings is suitable for kids ages 4 through 8.
The author creatively tells the story of Mrs. Farmer, who has taken out a huge soup pot and appears to be about to cook chicken soup. A cow proceeds to pass this startling message on to all the chickens via other animals on the farm. The chickens hide; however, Little Chickie has a cold and keeps on sneezing wherever she takes cover. Each time the young chick sneezes, all of the other chickens have to find a new hiding spot on the farm.
Eventually, Mr. Farmer is able to catch the young chicken and brings her to Mrs. Farmer. This is when the readers learn that, instead of preparing chicken soup, Mrs. Farmer has made some vegetable soup for Little Chickie to help her feel better.
Chicken Soup (ISBN 978-8109-8326-7) is published by Abrams Books for Young Readers. This hardcover book retails for $16.95 and can be purchased online or in your local bookstore. Reviewed by Debra Wasserman.
The 30-Minute Vegan
By Mark Reinfeld and Jennifer Murray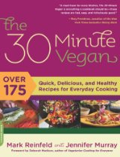 This husband-and-wife team share their passion for vegan cooking in a new, quick-and-easy cookbook. The recipe section starts off with smoothies and other beverages and then moves on to breakfast/brunch dishes, including Onion-Zucchini Corn Cakes prepared with spelt flour, flaxseeds, rice milk, zucchini, and onions. Next, you'll find snack ideas, such as Crispy Kale (baked kale with olive oil, nutritional yeast, and salt) and Savory Toasted Pepitas (consisting of pumpkin seeds, soy sauce, maple syrup, sesame oil, and vinegar).
Lunch recipes include several wraps and sandwiches. You will also find a wide variety of soups and great tasting salads, such as Coleslaw with Shaved Fennel and a Tuna-Free Tempeh Salad. Among the supper dishes are Tofu Saag (an Indian dish usually prepared with cheese) and Chipotle Chile-Rubbed Southwest Tempeh. The desserts section brings tasty options like Chocolate-Sesame Bonbons and Luscious Live Pie.
Nutritional analyses are not provided; however, most recipes do not appear to be high in fat. Plenty of tips and resources are offered throughout this book.
The 30-Minute Vegan (ISBN 978-0-7382-1327-9) is published by Lifelong Books. This book retails for $18.95 and can be purchased online at http://astore.amazon.com/httpwwwvrgorg-20/detail/B002FQOHY2. Reviewed by Debra Wasserman.