Back Cover
Spanish-Language Resources From The VRG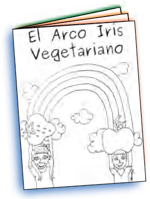 Thanks to Intern Veronica Lizaola for helping VRG expand its collection of Spanish-language resources! Veronica wrote and illustrated an exciting new 8-page coloring book titled El Arco Iris Vegetariano! The story follows Sofía and her little brother Luis as they identify their favorite fruits and vegetables of all colors at the supermarket. This booklet is fantastic for outreach to Latino audiences but will also appeal to youngsters who are just beginning Spanish! Contact VRG at (410) 366-8343 or vrg@vrg.org to find out how to order these coloring books.
In addition, VRG has published many recipe pieces from the Journal in Spanish! Visit www.vrg.org/nutshell/index.htm #spanish for these articles and more!
La Bodega y el Vegetariano
Recetas de Bolivia
La Cocina Cubana
Tamales Veganos
Menú Vegano para Personas con Diabetes
¡Salvemos el Agua por Medio del Vegetarianismo!