Note from the Coordinators
'Vegan' Popularity Headed Up
When we searched Google Books for mentions of the word 'vegan' between 1800 and 2008, the graph below came up. The use of the word was pretty flat until The Vegetarian Resource Group started in 1982. Then, there was a tremendous spike, which accompanied the popularity of our Simply Vegan, Vegan Handbook, and other vegan publications. With a cursory glance, the use of 'vegan' between 1800 and 1847 appears not to be a reference to diet but actually a proper name or the word 'began.' Most instances appear to be since 1990, even though Nutrition: Concepts and Controversies mentions 'vegan' in 1962 and the British Journal of Nutrition uses the term in 1959.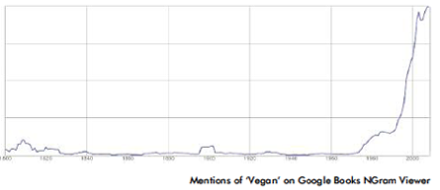 Veganism in the United States has increased because of many individuals taking personal responsibility for their health, environment, and ethics, as well as activists taking on responsibility to support groups and bring about societal change. Thank you to the 100-year-old VRG member who is still passing around Vegetarian Journal to her family and friends. Kudos to the student who requested teen brochures to give to her classmates.
Change happens because of donors who support our scholarship programs, internships, ingredient research, outreach to dietitians, and activism. Thank you to Reed Mangels, PhD, RD, who did an interview on vegan nutrition for the AARP website. Congratulations to VRG Intern Veronica Lizaola, who became a vegetarian while growing up in a Mexican-American, meat-eating culture in Texas. (See her article on page 35.) VRG's impact can only happen with all the hard work of our staff, volunteers, donors, interns, and members. To donate, volunteer, or become involved, contact VRG's new Volunteer Coordinator Mary Herbranson at vrg@vrg.org.