Meatless in Moscow
When my friend Theresa found a great travel package to Moscow, Russia, I immediately accepted her invitation to go along. Taking in the Kremlin, Red Square, and St. Basil's Cathedral over six days certainly sounded exciting to me!
We expected to have trouble mastering Russian basics like 'hello' (zdra-stvooy-tyeh) and 'thank you' (spa-si-ba), and we knew it would be difficult to interpret the Cyrillic lettering on maps and signs. However, we were correct in thinking that our greatest challenge would be navigating Moscow's culinary scene. Teresa has been vegan since 1995, and I have been vegetarian for a decade. What were we going to do in a country where much of the populace doesn't consider ham or salami to be 'real meat?'
Luckily, a couple of guidebooks and some Internet research led us to a few Moscow restaurants with vegetarian options and even two that are completely meatless! All were inside of the brown metro line (#5) that indicates the city's center and within a few metro stations of many major attractions.
Our first stop was our 1980 Olympics-era hotel, the Izmaylovo Vega (71 Izmaylovskoye, 495/956- 0506, www.hotel-vega.ru). Our stay included a daily breakfast buffet, which featured many items available on a typical brunch menu… and then some. (I don't think even the most adventurous carnivores went for what the catering staff referred to as 'hedgehog meat.') There was a large table with an impressive assortment of breads, such as ryes and Russia's famous black bread, and a variety of jams to complement those. Produce included fresh bananas, apples, pears, and watermelon, as well as a small salad bar with lettuce, beets, carrots, and similar veggies. There was also a delicious oat porridge that we concluded must be vegan since it was the only offering of its kind that didn't have 'dairy' on the sign, and there were dried apricots, raisins, prunes, and nuts to top that.
Before our trip, I had checked five guidebooks out from the library and taken copious notes about any restaurant that had phrases like 'a good choice for vegetarians' in the description. Of course, guidebooks, and even the Internet, aren't always the most current sources of information. One volume that I found listed a vegetarian Asian restaurant called Tofu, said to be popular with international travelers and young Russians alike. Teresa and I wandered around the neighborhood for about half an hour before a very patient teenaged girl (whose English skills were as limited as our Russian ones) personally walked us to the address. What may have been Tofu at one point was now the back of a large house. Similarly, both Teresa and I had found information about a vegetarian café with Indian food called Dzhagannat Express. It is now an antiques store.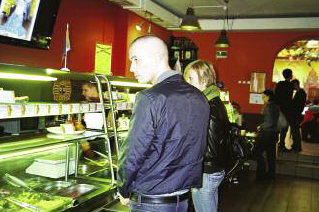 Luckily, only a few doors down from where Dzhagannat Express once stood is Jagannath (11 Ulitsa Kuznetsky Most, 495/628-3580, www.jagannath.ru). Located only blocks from the Kuznetsky Most metro stop, it is a stereotypically new-age vegetarian establishment, complete with sari-clad staff, works by local artists adorning multi-colored walls, and a community bulletin board covered in yoga studio and palm reading fliers. Offerings are sold cafeteria-style, with diners requesting servings of sneeze guard-covered food and adding them to their trays as they move down the line.
All of the signs were in Cyrillic, so much of the ordering process was a guessing game for us. In spite of this fact, our party ended up with a nice variety of cuisine- - subtly-flavored cold borscht, samosas, yellow curry with tofu and vegetables over white rice, and tasty fried shish kabobs that turned out to have tomatoes, tofu, and seitan inside once I got past the batter. In addition, Jagannath is connected to a small natural foods store that sells canned beans and chickpeas, boxes of couscous, and other vegetarian staples. It was the only place in Moscow where we saw peanut butter, rice milk, oat milk, or a choice of soymilks. Make sure to stop in on your way out of the restaurant.
Our most pleasant dining experiences in Moscow had to be at Avocado Vegetarian Café (12 Chistoprudny Bulvar, 495/988-2656). It's well worth what seems like the 10-block trek from the Chistye Prudy metro stop to this bright, simply decorated eatery with a covered patio out front. The menu is in English and indicates with a star which items are 'strict vegetarian.' (Note that honey is an ingredient in some of their 'strict vegetarian' dishes.) Vegan options that are available year-round include a hot spinach salad (with sun-dried tomatoes, red onions, walnuts, and basil), carrot schnitzel, buckwheat noodles with vegetables and sesame sauce, farfelle with sun-dried tomatoes and lots of garlic, and a veggie burger made from soy meat and lentils and served with French fries. Also, the seasonal menu allowed us to indulge in a delightfully autumnal pumpkin soup topped with pistachios.
Avocado was our top pick for vegan desserts in Moscow, with choices like non-dairy mousses and black currant, pear, pineapple, and strawberry-raspberry sorbets. They also have an impressive drink menu with juices, soft drinks, coffees, teas, hot and cold cocktails, and wines. The restaurant does have a breakfast menu, but don't expect to find scrambled tofu on it. Nearly every item involves or includes eggs.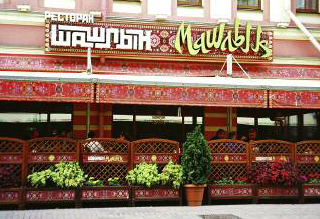 The Old Arbat is one of Moscow's main tourist-oriented shopping districts, as well as the home of Shashlyk-Mashlyk (38/1 Ulitsa Arbat, Building 1, 495/241-2107). One of my guidebooks indicated that this non-vegetarian Caucasus restaurant has an English-language menu with a sizable vegetarian section. The book was right about the translations on the bill of fare, but the vegetarian selection was smaller than we had hoped for. There were typical green salads, a variety of fresh or pickled vegetable sides, white and dark breads, and many boiled items, including potatoes, buckwheat, and rice. Fortunately, there was also a variety of vegan eggplant dishes, including aubergines with vegetables and Oriental-style aubergines that were stuffed with fried vegetables and spices. I ordered the aubergines with nuts appetizer - boiled eggplant slices surrounding generous servings of a delectable walnut-and-spices spread. Then, Teresa and I both feasted on hearty vegetarian vegetable soup, laden with broccoli, cauliflower, potatoes, string beans, carrots, and peas.
By the end of our trip, Teresa concluded that she had an easier time finding vegan food when she went to Swaziland than she did in Moscow. Don't let that scare you away from visiting Russia, though! Moscow is very cosmopolitan. In addition to the places where we dined, you can find Asian, Indian, and Ethiopian restaurants if you get off the beaten path. We also ran across a surprising number of American chains, including Sbarro, Starbucks, Subway, and TGI Friday's, that surely have heard their shares of Westerners request vegetable sandwiches and cheeseless pizzas.
Vegetarians and vegans who visit Moscow may not have as many options as they are used to, but they certainly won't starve. Worst case scenario, they will develop a new appreciation for paprika-flavored Pringles!