Chinese Cooking – From a Study Abroad Student
By Yasmin Radbod
What Is Chinese Food?
You might have already read a few of my articles about my experiences as a vegan in China (See Issue One 2013 and Issue Two 2013 of Vegetarian Journal). One of the highlights of my travels was learning how to cook Chinese food. I traveled to many cities and provinces, tried local cuisines, learned to cook a few dishes from Nanjing and Jiangsu Provinces, explored the vegan options at food markets and street vendors, and ate with Buddhist monks. That being said, I am by no means an expert in Chinese cooking; in this article I simply hope to offer some cooking tips, pointers, and lessons learned.
It's difficult to even put all cuisine in China under one label of 'Chinese food' because there is so much variance and difference in customs and tastes depending on the location and background of the locals. China is huge, and so is its appetite for many spices, flavors, cooking methods, and specialty foods. If you go to Yunnan Province, be prepared to try Yunnan cuisine—lots of root vegetables, breads, and other traditional foods. If you go to Sichuan Province, be ready for its super spicy, oily food. Dongbei is famous for dumplings, and many regions have different types of dumpling styles and stuffing inside them. If you are going to Tibet, for instance, their dumplings are called momos, and are unique to Tibetan cuisine.
In addition, what we consider Chinese food is honestly not at all what authentic Chinese food truly is. As a kid, before I became vegan, I always loved to go to the corner Chinese food restaurant and order Moo Goo Gai Pan, Vegetable Lo Mein, egg rolls, dumplings, Szechuan Chicken, and (of course) General Tso's Chicken. It wasn't until I took a course in Asian American History and lived abroad in China that I realized American Chinese cuisine isn't Chinese cuisine. Just remember that if you go to a Chinese restaurant, for example in Nanjing, over half of the foods I listed above will not be on the menu. A lot of the foods on a menu at an American Chinese restaurant have invented names that don't exist in Mandarin, like Moo Goo Gai Pan or Chop Suey. For the record, fortune cookies are an American invention and do not exist in China.
Cooking is different in China. Here's a list of observations and conclusions I made living in China:
Measurements do not exist. When you cook, you cook based on your knowledge and familiarity with spices. You haphazardly decide how much of an ingredient to use. Maybe you use a pinch of salt, a bit of cinnamon, a handful of broccoli, or a small helping of tofu.
My pantry for Chinese cooking consists of the following ingredients: star anise, cinnamon, garlic, curry powder, organic soy sauce, sesame oil, vinegar, fresh chilies, soybean oil, cilantro, and ginger. For vegetables, I often cook broccoli, all types of mushrooms, carrots, lotus, bok choy, bamboo shoots, and cabbage.
I always use fresh spices. I chop up garlic, shred ginger, and use fresh, whole chilies. I can't tell you how many times at a restaurant in China I ate a chunk of ginger thinking it was a vegetable. But the flavor really comes out when using fresh, wholesome spices.
I have never used a typical non-stick pan when cooking Chinese food. Use a wok! To fry vegetables, heat up the pan a little, toss in some spices and oil, and then cook the vegetables with a lid on top of the pan.
Experiment with different types of tofu! There is such a wide variety. Give yourself a new experience and visit a nearby Asian market or grocery. Try a different type of tofu (knotted, puffed, defatted, etc.) that you have never cooked before. That is how I originally familiarized myself with different types of vegetables, tofu, and gluten. Trial and error is useful and fun.
The author traveling to Yangshuo on a bamboo boat.
Fried Lotus with Black Rice
(Serves 2-3)
Lotus is a big, white, eggplant-shaped, root vegetable. It helps to soak it in advance to soften it. Lotus will naturally turn brownish if left out; this is normal and does not mean it has spoiled. Slice it thinly; the inside design of slices will resemble tomato slices. You can purchase lotus root from Asian markets. Some natural foods stores also carry it. If you cannot find it in the fresh produce section, try checking the frozen section of your grocery store. Star anise can also be purchased at Asian food stores. Star anise is actually part of an evergreen tree – the pod to be exact – and is very common in Chinese cooking. It has a very distinct taste, almost like licorice. Just like with \the ginger root slices or chilies, star anise is not meant to be eaten raw; it is used only to flavor dishes. Buy black rice or another heartier rice option (brown rice is fine) and either use a rice cooker or boil water to make the rice.
1 Tablespoon sesame oil
5 star anises
A few slices fresh ginger root
1 Tablespoon curry powder
1 clove fresh garlic, minced
2 dried, whole red chilies
3 green onions, chopped
1 lotus root, sliced
1 cup black or brown rice
2 cups water
Soy sauce (optional)
Heat up your frying pan (or wok) with the sesame oil. Add star anise, fresh ginger slices, curry powder, fresh garlic, fresh chilies, and the green onions. Add the lotus slices, put a lid on the pan, and fry the slices on both sides. The lotus slices will be sticky; this is natural and is part of what makes lotus so unique. After about 10 minutes, taste the lotus. If it is not soft enough, let it cook to meet your taste. Some people prefer crunchier lotus.
In a separate pot, add two cups of water to the one cup of rice and cook according to the directions. Serve the lotus slices over the cooked rice, and add soy sauce to flavor the rice (if desired). I often have plain vegan yogurt as my side for this dish.
Note:You can certainly turn this dish into a stir-fry and add any other vegetables of your choice, change the spices, change the grain (substitute with noodles, for example), and add a protein (tofu, seitan, tempeh, etc.).
| | |
| --- | --- |
| Total calories per serving: 412 grams | Fat: 10 grams |
| Carbohydrates: 78 grams | Protein: 10 grams |
| Sodium: 27 milligrams | Fiber: 9 grams |
Sesame Kale
(Serves 2-3)
This is a healthy and very green side dish! Edward and Sons makes a vegan miso soup mix that is sold in natural foods stores and some supermarkets.
1 large bunch kale
1 package vegan miso soup mix
1 Tablespoon low-salt soy sauce
1 Tablespoon fresh sesame seeds
Prepare the kale by washing and tearing off smaller pieces. The stem is usually hard to chew even when cooked, so don't use that part in this dish.
Boil two cups of water in a pot, then stir in the miso soup mix. Carefully place a steamer inside the pot, covering most of the water. Then add the kale. Make sure to put the lid on the pot as well. If it seems like a lot of kale at first, don't fret. The kale will cook down and become smaller as it steams. Once the kale has softened, remove the kale from the steamer. Let it cool, and after a few minutes add soy sauce to taste and top with the fresh sesame seeds.
You can also use the boiled water for a soup or stew, or even forget the steamer and turn the dish into a kale soup by adding other vegetables of your choosing. Sometimes I let the steamed kale marinate in the soy sauce and refrigerate it to eat later as a cold dish.
| | |
| --- | --- |
| Total calories per serving: 131 grams | Fat: 4 grams |
| Carbohydrates: 21 grams | Protein: 8 grams |
| Sodium: 388 milligrams | Fiber: 9 grams |
B&B Stir-fry with Udon Noodles
(Serves 2-3)
B&B stands for bean sprouts and bamboo! The great thing about this recipe is that these vegetables cook quickly. Sometimes I try marinating the vegetables in soy sauce before cooking, and sometimes I don't. Marinating in advance can decrease the cooking time and increase flavor. However, if you want to reduce your sodium intake, do not marinate and use the soy sauce sparingly or not at all. Asian markets typically have great selections of hot, chili, and bean sauces that are vegan and tasty additions to this dish.
1 Tablespoon canola or vegetable oil
1½ cups bamboo shoots (washed, cut, and drained)
1½ cups bean sprouts
½ cup thinly sliced carrots
1 Tablespoon soy sauce (optional)
1 Tablespoon curry powder
Juice from ½ fresh lemon
1 garlic clove, minced
1 Tablespoon hot sauce (optional)
One package udon noodles
Heat your frying pan or wok with the oil, then add the vegetables. The carrots can be added to the stir-fry or used at the end as a raw topping for color and crunch. Add soy sauce (if using), spices, lemon juice, and garlic. If you're on high heat, it should take only 10 minutes for the veggies to cook. Add Chinese hot sauce if you like a kick.
To prepare the udon noodles, depending on how much you want to prepare, add the correct amount of water according to the noodle package directions and bring the water to a boil. One bunch, or strand, that comes in the packages of Asian noodles (there are usually four or five bunches in total) is enough for one person. Add noodles to boiling water and cook for 10-15 minutes until the noodles are soft. Drain the noodles, and serve the stir-fry on top of them, with the carrots, too. You can also serve the hot sauce on the side to dip.
| | |
| --- | --- |
| Total calories per serving: 334 grams | Fat: 8 grams |
| Carbohydrates: 55 grams | Protein: 13 grams |
| Sodium: 31 milligrams | Fiber: 6 grams |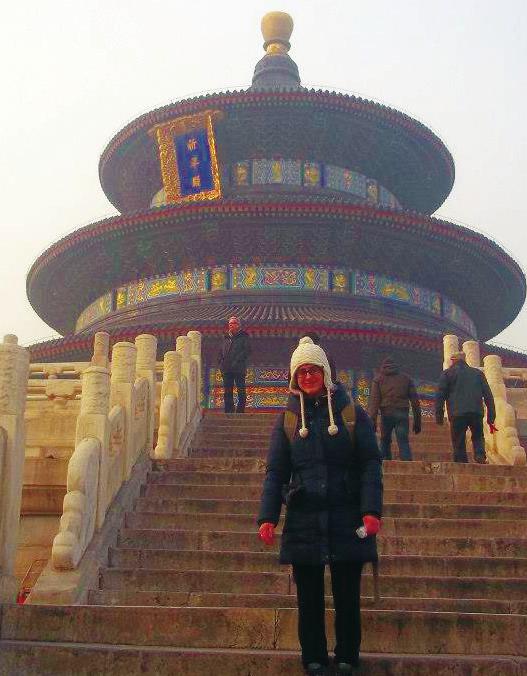 The author at Temple of Heaven in Beijing.