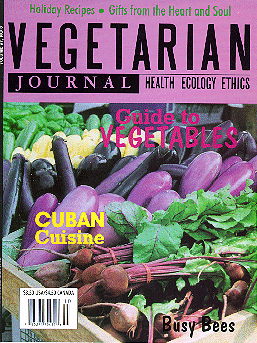 ---
Vegetarian Journal
Excerpts
November/December 1996
Volume XV, Number 6
---
---
Gifts from the Heart and Soul
By D. Enette Larson, MS, RD
---

As the holiday season approaches, it is easy to become overwhelmed with the hustle and bustle_faced again with the task of finding "perfect" gifts for family and friends. This year, why not try gift-giving from the heart and soul? Gifts that express your beliefs in preventive health, environmental concerns, and ethical considerations help spread the word about vegetarianism. Gifts can be as subtle as a loaf of homemade whole wheat bread and fruit preserves or a tin of vegan gingerbread cookies, or as direct as a non-leather belt. They can be as simple as a vegetarian cookbook or single potted herb, or as detailed as a them e gift basket. Whatever the case, start with the following ideas, add a little imagination and creative (early) shopping, and you're likely to create the perfect holiday offering. By preparing enough in advance, you may even buy some time to relax and enjoy the holidays.
Gift Boxes and Baskets
Gift boxes and baskets are wonderful ways to express creativity and personalize a useful gift for family and friends. Look for baskets and unique boxes and crates at antique, specialty, and second-hand shops. Cover old sturdy boxes with holiday wrap or fabric scraps. Let your imagination run wild.

Breakfast Basket_Fill with natural cereals, muesli, low-fat granola, dried fruit, whole grain pancake and muffin mixes, specialty teas and/or coffee, and soy milk. Sections from old newspapers (cartoons, sports page, stock market report, etc.) make nice fillers.

Lunch on the Run_Start with a reusable lunch box or sack, a wide-mouthed thermos (one that will hold bean or chunky vegetable soup), and air tight lunch containers. Add quick-to-prepare lunch items such as instant bean and rice mixes, vegetarian soups, small pop-top cans of garbanzo and baked beans, and individualized packages of soy milk and dried fruit.

High-Carbohydrate "Athlete" Box_Line box with a small workout towel. Include specialty pastas, rices, and other grains such as buckwheat pasta, tomato herb pasta, couscous, basmati rice, wild rice, bulgur, wheat berries, barley, and kamut. Add sundried tomatoes and dried mushrooms for variety.

Vegetarian Potpourri_Fill an old bean sack or vegetable crate with a variety of vegetarian staples including dried beans, tofu (shelf-stable variety), tahini, instant vegetable broth, nutritional yeast, tabouli salad and veggie burger mixes, whole grain flours, soy nuts, and nut butters. Toss in a vegetarian cookbook containing easy-to-prepare favorites.

Picnic or Camping Basket_Fill a picnic basket or soft cooler with an outdoor table linen. Add cloth napkins, wine or juice glasses, and outdoor tableware if desired. Fill with picnic or camping foods such as a bottle of wine or exotic fruit juice, whole grain crackers, matzo, dried fruit, trail mixes, nuts, and soy cheeses.

Beauty and Cleansing Basket_Select a small useful basket for the bathroom. Fill with a set of wash cloths and environmentally friendly, cruelty-free shampoo, soap, and body lotion. Herbal packs for bath or facials make nice additions.
Vegetarian Books and Cookbooks
Chances are there is a vegetarian book to suit most interests. There are many "hot off the press" vegetarian books published this year and a slew of old classics (check the list at the back of the Journal plus our book review section).

Gift Certificates_Gift certificates always make nice gifts for leisurely enjoyment after the holidays. Present gift certificates for favorite vegetarian restaurants, local natural food co-ops, or specialty kitchen or garden shops. Personalized gift certificates for a home-cooked vegetarian meal or breakfast in bed may be enjoyed even more.

Gift Memberships and Subscriptions_Say "Happy Holidays" all year long with a year subscription to Vegetarian Journal or membership in a local vegetarian co-op or other vegetarian organization. (Gift subscription forms appear on page 17 of this issue.)

Gifts For the Cook_Kitchen utensils and equipment (that aid in preparing plant-based meals) are super for beginning and experienced cooks alike. Look for unique, useful items such as a garlic press, sturdy vegetable peeler, high quality sauting skillet, or ever-sharp vegetable chopping knives.

Herbs and Spices_A collection of herbs and spices (staple or unusual) or potted indoor herbs such as basil, parsley, chives, oregano, or mint are lively ways to say "Happy Holidays!" Include an informative book on growing, cooking with, and using herbs if desired.

Gifts from the Kitchen_Almost any gift from the kitchen sends a special holiday message. Wrap up a loaf of homemade whole wheat bread with last summer's fruit preserves or freshly prepared nut butters such as peanut or pecan. (Nut butters can be prepared at many natural food stores or by using a high powered blender or food processor.) Stuff homemade "Holiday Granola" into a reusable storage canister or prepare herb or berry vinegars in decorative jars. Assemble "Six Bean Winter Soup Mix" (page 12) in clear jars and decorate by tying fabric swatches around the lid. Better yet, deliver "Kolachys" (page 12) or lowfat muffins for a morning treat.
Other Gift Ideas
Shop around for vegan gifts including non-leather athletic shoes or non-leather belts. (See "A Shopper's Guide to Leather Alternatives," Vegetarian Journal, May/June, 1996 or send $3 for a copy of this guide.) Look for subtle vegetarian gifts such as those made in the currently popular form of fruits and vegetables. These include buttons, costume jewelry, teapots, tree ornaments, and even children's dressers that are shaped like various fruits and vegetables. Also look for fabric, kitchen towels, and clothing with fruit or vegetable designs. Paintings, prints, and posters of plant foods also make great gifts and should be easy to locate.
Gifts for Children
Shop the back of Vegetarian Journal for gifts for children. Super ideas include "Leprechaun Cake and Other Tales: A Vegetarian Story Cookbook" by Vonnie Winslow Crist (VRG, 1995), the "I Love Animals and Broccoli" series for children of different ages, and "The Vegetarian Game" (computer software educational game with three age levels: 5-9, 10 or older, and advanced). For a home-baked gift, fill an interesting gift tin with homemade gingerbread bears (page 13).
Gifts for Teens
Prepare a gift box stuffed with healthy snacks such as whole wheat pretzels, dried fruit, fruit juice, granola bars, and flavored rice cakes , or wrap up a copy of "The Vegetarian Game" (VRG, see page 34 of the Journal).
Recipes for Gifts
Herbed Vinegar
Cut sprigs of fresh basil, tarragon, mint, or dill to fit the height of a decorative bottle with a tight sealing lid (empty wine or salad dressing bottles work well). Place herbs in bottle, using handle of wood en spoon if necessary. Fill bottle with white, cider, or wine vinegar. Cap; let stand at room temperature at least 5 days to blend flavors. For an additional twist, place two cloves of peeled crushed or whole garlic (smeared) in with herbs before sealing.
Berry Vinegar
Great as a salad dressing for sharp, fresh greens. Attach a favorite mixed green salad recipe for gift-giving.

Press one 10-ounce box of frozen berries, thawed, through a strainer to measure 1/2 cup. Heat juice, 3 cups of white or cider vinegar, and 1 cup sugar to boiling, stirring frequently. Boil and stir 1 minute. Cool. Pour into bottles; cover tightly.
Whole Wheat Bread
(Makes 5 loaves, 8 slices per loaf)

This bread freezes very well.

3 packages active dry yeast
1 cup warm water (115 degrees)
41/2 cups hot water (130 degrees)
1 cup dark brown sugar
1 Tablespoon salt
1/2 cup vegan margarine
11/2 cups plus additional unbleached white flour
51/2 cups whole wheat flour (or substitute half as cracked wheat)

Dissolve yeast in warm water and set aside. In a large bowl, combine hot water, brown sugar, salt, and margarine. When margarine is melted, stir in white flour and about 11/2 cups of wheat flour. Beat well with a wooden spoon until gluten development is initiated (mixture will appear slightly elastic when pulled with a spoon). Add the yeast mixture and the remaining whole wheat flour. Add enough white flour to make a stiff dough. Turn out on a lightly floured surface and knead for 10 minutes, adding flour as needed to keep dough from sticking to your hands and the surface. Let dough rest for 3 to 5 minutes. Place dough in an oiled bowl, turning dough over so it is oiled on all sides.
Cover bowl with lid or waxed paper and cloth. Let rise in a warm place until double in size, about 1 to 11/2 hours. Punch down and let rest for 5 to 10 minutes. Divide into 5 equal parts. Shape dough into loaves and place in oiled 41/2 by 81/2 inch pans. Let rise again, about 45 minutes or until double in size. Bake in a preheated oven at 350 degrees for 40 minutes.
Remove from pans, place on cooling racks, and brush top crust lightly with margarine. Let cool. Place in plastic bags and wrap creatively for gift giving.

Total calories per slice: 113
Fat: 3 grams

Holiday Granola
(Makes about twenty 1/2-cup servings)

This granola makes a great gift for all ages.

1/4 cup soy oil
1/3 cup liquid sweetener
1/2 cup orange juice
1 teaspoon vanilla
1 teaspoon grated orange zest
1/2 teaspoon cinnamon
1/8 teaspoon cloves
5 cups uncooked oatmeal (quick cooking)
2 cups wheat bran
1/2 cup soy grits
11/2 cups dried cranberries
1 cup finely chopped, dried apricots
1/4 cup chopped walnuts or almonds
1/2 cup unsweetened coconut (optional)

In a small saucepan, heat oil, liquid sweetener, juice, vanilla, and spices. Combine the remaining ingredients in a large bowl and mix well. Pour liquid mixture over dry ingredients and mix thoroughly. Spread mixture on 2 jelly roll pans. Bake at 350 degrees for 12 minutes, stirring mixture once during cooking. Remove from oven and cool. Store in airtight containers.

Total calories per serving: 175
Fat: 6 grams

Kolachys
(Makes about three dozen kolachys)

A holiday tradition passed down by my grandmother, Mary Alice Larson. It took years to adapt this recipe to a vegan version so traditional-tasting that my father can't even taste the difference.

16-20 ounces of dried fruit (prunes and
apricots are traditional, cranberries and cherries also work)
1 package cake yeast
2 cups plain soy milk, heated to lukewarm
3/4 cup margarine
1/2 cup sugar
1/2 teaspoon salt
1 Tablespoon vanilla
1 teaspoon grated lemon rind
1/2 teaspoon mace
21/2 cups whole wheat flour
2 cups plus additional unbleached white flour

Prepare fruit filling by placing dried fruit (separately if making several types) in a saucepan with enough water to cover. Bring water to a boil, turn to low, cover, and simmer until fruit becomes soft enough to mash into a thick paste (1 to 2 hours). Stir often and add addition al water as needed. Apricots require more water and a longer cooking time. Fruit filling may be prepared several days ahead and kept refrigerated.
To prepare dough, soften yeast in 1/2 cup lukewarm soy milk (115 degrees). In a large bowl, combine remaining soy milk, margarine, sugar, salt, vanilla, lemon rind, and mace. When margarine is melted and mixture is lukewarm, stir in softened yeast. Add the whole wheat flour and mix well. Stir in enough white flour to make a soft dough. Do not knead . Cover and let rise 1 hour or until double in size. (Do not let over-rise.) Punch down and place on heavily floured board. Knead several times so dough is not sticky but be careful not to over-knead. Roll out to 1/2-inch thick. Cut into 4-inch squares. Fill each square with 1 tablespoon of fruit mixture. Fold four corners of square into center like a knapsack and pinch closed. Cover and let rise until double in size . Bake in a preheated oven at 375 degrees for 12 to 15 minutes.

Total calories per kolachy: 136
Fat: 4 grams


Six Bean Winter Soup
(Serves 8)

Try adding fresh vegetables, such as carrots, turnips, onions, garlic, and spinach or collard greens, or fresh or canned tomatoes. Add vegetables in the latter stages of cooking after mashing beans.

1/4 cup each dried black, pinto, kidney, and cannellini beans
1/4 cup each dried black eyed peas, lentils, and split peas
1/2 cup brown rice
1/4 cup instant minced onion
1/4 cup dried vegetable flakes
1/4 cup dried parsley
1 teaspoon dried garlic flakes
1 teaspoon dried basil
1/2 teaspoon celery salt
5 peppercorns
2 bay leaves

Sort through beans and layer attractively in a 2- to 2-1/2 cup airtight jar. Place seasonings in a small sealed bag; tuck in jar with beans or in a sewn decorative cloth pouch.
Cover lid of jar with a fabric swatch and attach the following directions:
Rinse beans. Place in a large pot and cover with water. Bring to a boil and boil 5 minutes. Turn off heat, cover, and let soak 1 hour. Drain and rinse beans and add 8-10 cups of fresh water and the content s of the seasoning packet.
Bring to a boil, reduce heat to low, cover, and cook 11/2 to 2 hours until beans are tender. Remove bay leaf and peppercorns. Remove several cups of beans, mash with a potato masher, and return to the pot. Cook uncovered about 20-30 minutes until soup is thick. Add additional water if necessary.

Total calories per serving: 147
Fat: 1 gram

Gingerbread Bears
(Makes approximately 2 dozen 4-inch cookies)

Decorate with raisins, bits of chopped dried fruit, nuts, and/or pieces of cereal.

1/4 cup soy oil
1/3 cup dark brown sugar
1/2 cup dark molasses
21/2 cups unbleached white flour
1 cup oat flour
1 teaspoon baking soda
2 teaspoons ginger
1/2 teaspoon cinnamon
1/4 teaspoon cloves
1/4 teaspoon salt
1/4 cup plus 1 Tablespoon orange juice

In a large bowl, combine oil and brown sugar; beat in molasses. Sift flours together. Add remaining dry ingredients and sift again. Add sifted ingredients to oil mixture in three parts alternately with the juice. Use an electric mixer for best results. If not using an electric mixer, you will have to work in last of flour with your hands. Place in refrigerator about 10 minutes before rolling.
Place on lightly floured surface and roll out to slightly thicker than 1/8 inch. Cut with floured cookie cutter into shapes of teddy bears or gingerbread boys or girls. Transfer to oiled cookie sheet using well floured spatula.
Bake in a preheated oven at 350 degrees for 8 minutes until cookie springs back when pressed lightly. Cool on racks and store in an air-tight container.

Total calories per cookie: 108
Fat: 3 grams

Special thanks to my mother, Earline Larson, for stimulating my interest in cooking (at the age of four) and providing creative input for this article.

---

This article originally appeared in the November/December 1996 issue of the Vegetarian Journal. We encourage you to subscribe to the magazine.

Thanks to volunteer Jeanie Freeman for converting this article to HTML
© 1996- The Vegetarian Resource Group
PO Box 1463, Baltimore, MD 21203
(410) 366-8343 Email: vrg@vrg.org



Last Updated
September 20, 1997

Graphic design by


The contents of this web site, as with all The Vegetarian Resource Group publications, is not intended to provide personal medical advice. Medical advice should be obtained from a qualified health professional.

Any pages on this site may be reproduced for non-commercial use if left intact and with credit given to The Vegetarian Resource Group.

Web site questions or comments? Please email brad@vrg.org.