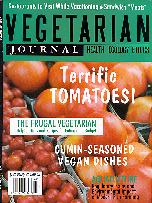 ---
Vegetarian Journal
Excerpts
Jul/Aug 1997

Volume XVI, Number 4
---
---
Vegetarian Action: The Art of Vegetarianism
---
For the past several years, the Vegetarian Journal has been fortunate to have the drawings of Vonnie Crist grace its pages. Her work is colorful and inspired, and these pages are all the better because of her artistic contributions. In addition to her drawing pursuits (she has also provided the illustrations for many VRG books), Vonnie is also an accomplished writer of poetry and fiction. She's been published all over the world and has had some of her work translated into foreign languages.
Last year, the combination of her two main artistic endeavors, drawing and writing, resulted in the publishing of the children's book Leprechaun Cake and Other Tales. The book, written in collaboration with VRG co-director Debra Wasserman, is a vegan storybook/cookbook for children from the ages of 8-11. The book contains five short stories, each of which leads up to a gathering where food is served. Each individual story is then followed by several recipes appropriate for the corresponding gathering.
The book was met with acclaim, and Vonnie has spent a lot of time since traveling to book stores where she signs copies and reads the stories to groups of children. Recently, she's also been spending a great deal of time speaking or reading stories at schools, reaching kids from the pre-school to high school level. When she gives a reading, she also brings along a variety of VRG handouts, including essay contest information, the teenage nutrition pamphlet, and the "I Love Broccoli and Animals" coloring book and shopping basket.
At the readings for younger children, Vonnie reads and draws pictures from Leprechaun Tales. When she's asked to speak to older kids, it's usually to talk about creative writing or in a "Career Day" capacity where she discusses her work as a writer and an artist. Her vegetarianism is always part of the discussion, but it's always subtly presented. "You don't have to scream it, you just have to say it," says Vonnie. "And you say a lot just by living a certain way."
During her school visits, Vonnie finds the handouts to be well received. "Sometimes, especially in rural areas, a person might not even know any other vegetarians," she says. "The literature lets them know that The VRG is out there, and I encourage them to write or call."
"A lot of them don't know what the options are," she continues. "I'm just presenting another option, another alternative."
When asked how parents respond to their children's interest in her book, Vonnie says, "They [parents] tend to be interested mainly in the fact that they [children] are looking at healthy food, and that the kids are reading. Getting children to read is really important."
Kids frequently ask Vonnie how her parents react to their daughter being a vegetarian. "They're happy with any choice that I make that's healthy for me," she responds. She also tells the kids that her father is a hunter. "That's his choice," she tells them. "I do not make that choice. As you get older, you might decide to make different choices than your parents, and that's okay too."
Vonnie practices that tolerance at home, too. Her husband and her three children all eat meat to some degree. Her family does agree to use only cruelty-free health and beauty products. "Some choices require so little of us," says Vonnie. "Using cruelty-free products is one of them."
Growing up, Vonnie never really liked the taste of meat, and she loved animals. It was only a matter of time before she started trading the meat on her plate for her siblings' vegetables. Now, she has a sister who has also made the choice to be vegetarian. "Sometimes I'll make extra portions of some recipes and pop it into the freezer so I can share it with her the next time I see her," Vonnie relates.
Vonnie also speaks to seniors and to other interested groups. She recently spoke to a Lion's Club dinner gathering, requesting her own vegetarian plate at the affair. As always, her presentation is simple and to the point without being heavy-handed or preachy. "Vegetarianism is part of who I am, therefore, when I come to speak or tell stories, that's part of what you're going to get. If it's an integral part of your life, it's impossible not to present it."
---
The Vegetarian Journal published here is not the complete issue, but these are excerpts from the published magazine. Anyone wanting to see everything should subscribe to the magazine.
Converted to HTML by Jeanie Freeman
© 1996- The Vegetarian Resource Group
PO Box 1463, Baltimore, MD 21203
(410) 366-8343 Email: vrg@vrg.org



Last Updated
September 20, 1997

Graphic design by


The contents of this web site, as with all The Vegetarian Resource Group publications, is not intended to provide personal medical advice. Medical advice should be obtained from a qualified health professional.

Any pages on this site may be reproduced for non-commercial use if left intact and with credit given to The Vegetarian Resource Group.

Web site questions or comments? Please email brad@vrg.org.