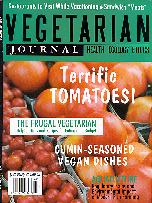 ---
Vegetarian Journal
Excerpts
Jul/Aug 1997

Volume XVI, Number 4
---
---
Out of the Way or On the Way?
---
What's considered "out-of-the-way" varies drastically for each person. Folks from New York City might consider Delaware out of the way, while residents of Delaware, and most of us, for that matter, consider Montana out of the way. But the fact is that once you are out of a major city in any state, whether California or Arkansas, your chances of finding a vegetarian restaurant decrease dramatically.
Don't despair. With the increasing demand for vegetarian fare you'll be surprised to find that in some of those "out-of-the-way" spots in the USA, there's probably a vegetarian restaurant nearby, or at least a restaurant with a few vegetarian selections. So what kind of vegetarian meal will you find in South Dakota, and are there vegan options in Mississippi? Read on to find out some of the new and isolated (from other vegetarian restaurants, that is) restaurants we've found while compiling Vegetarian Journal's Guide to Natural Foods Restaurants in the U.S. and Canada.

KEY: $-less than $6; $$-$6-$12; $$$-over $12


Anchorage, Alaska
Enzyme Express, 2604 Fairbanks Street
Anchorage, AK 99503 (907) 727-5433

Vegan. Vegan buffet, fresh juices and smoothies, as well as health products. Open Monday through Saturday for lunch and dinner. Limited service, take-out, VISA/MC, $-$$.



Telluride, Colorado
The Natural Source, 236 West Colorado Avenue
Telluride, CO 81435 (303) 728-4833

Vegan. You'll find this vegan cafe in the Colorado Rockies, at an altitude of 8,750 feet. Eat your tempeh rueben, falafel, grilled tofu and mushrooms, or any of the other dishes on this vegan menu in the cafe, or take it next door to Telluride's historic Elks Park. Open daily for three meals. Limited service, fresh juices, take-out, VISA/MC, $.



Jackson, Mississippi
The Grainery, 1800 North State Street
Jackson, MS 39202 (601) 353-7423

Vegetarian. Try the three-bean burrito, beefless burger, garden veggie burger, or one of the other many vegan options. Vegan desserts and ice cream available. Open Sunday through Thursday for lunch and dinner, Friday lunch, closed Saturday. Full service, vegan options, takeout, VISA/MC, $-$$.



Grand Forks, North Dakota
The Garden, 420 DeMers Avenue
Grand Forks, ND 58201 (701) 746-5920

Vegan. Located in "the heart of meat and potatoes country," as the owners say; this vegan restaurant is a paradise where one can find vegan soups, burgers, and daily specials. "From-scratch" breads and bagels made with organic flour, and other baked goods are also available. There is also a small vegetarian grocery. Open Monday through Thursday for lunch and dinner, Friday lunch only. Cafeteria, smoothies, soy milk, catering, take-out, $.



Rapid City, South Dakota
Veggies, 2050 West Main, #7
Rapid City, SD 57702 (605) 348-5019

Vegan. A different menu is featured daily at this vegan restaurant located in a natural foods store. Open Monday through Thursday for three meals, Friday breakfast and lunch, Sunday brunch. Limited service, fresh juices, $.


Spearfish, South Dakota
Bay Leaf Cafe, 126 West Hudson
Spearfish, SD 57783 (605) 642-5462
Multi-ethnic. Wow! Another restaurant in South Dakota with great vegetarian options. Try the garden burger, black bean burger, bean burrito, tempeh with sauted veggies, or one of the other vegetarian selections. Open daily for three meals. Full service, vegan options, espresso/cappuccino, catering, delivery. VISA/MC/AMX/DISC, $-$$.



Brattleboro, Vermont
Peter's Juice Bar Cafe, 127 Main Street
Brattleboro, VT 05301 (802) 257-7412
Vegetarian. Enjoy a view of the Connecticut River with your spiced seitan pocket sandwich or veggie burger. Many fresh juices and smoothies to choose from. Open Monday through Saturday for lunch. Limited service, vegan options, fresh juices, smoothies, $.


---

The Vegetarian Journal published here is not the complete issue, but these are excerpts from the published magazine. Anyone wanting to see everything should subscribe to the magazine.

Converted to HTML by Jeanie Freeman
© 1996- The Vegetarian Resource Group
PO Box 1463, Baltimore, MD 21203
(410) 366-8343 Email: vrg@vrg.org



Last Updated
September 20, 1997

Graphic design by


The contents of this web site, as with all The Vegetarian Resource Group publications, is not intended to provide personal medical advice. Medical advice should be obtained from a qualified health professional.

Any pages on this site may be reproduced for non-commercial use if left intact and with credit given to The Vegetarian Resource Group.

Web site questions or comments? Please email brad@vrg.org.