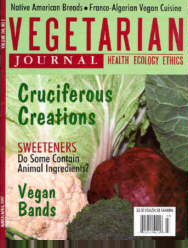 ---
Vegetarian Journal
Excerpts
March/April 1997
Volume XVI, Number 2
---
---
Vegetarian Action: Profiles of Three Leaders in Vegetarian Nutrition
By Suzanne Havala, M.S., R.D.
---
Winston Craig, Ph.D.
Dr. Winston Craig may be the quiet, unassuming type, but behind the scenes he makes a major contribution to the area of vegetarian dietetics. Director of the dietetic internship program at Andrews University in Berrien Springs, Michigan, he received his Ph.D. in organic chemistry from the University of Queensland in Brisbane, Australia and a Master of Public Health from Loma Linda University in Loma Linda, California. He has taught nutrition courses at Andrews University since 1987 as well as having taught at Loma Linda University and at the University of Massachusetts in Amherst. He has authored over 75 papers for scholarly journals and lay publications, and has written three books, Nutrition for the Nineties, Eating for Good Health,Winston Craig, Ph.D. and The Use and Safety of Common Herbs and Herbal Teas.

Dr. Craig is an assistant editor of the Journal of Health and Healing, and he is the editor of Issues in Vegetarian Dietetics, the newsletter of The American Dietetic Association's Vegetarian Nutrition Dietetic Practice Group. A practicing vegetarian, Dr. Craig conducts nutrition seminars and lectures on herbs in North America, Australia, New Zealand, Europe, and the Caribbean. His research interests include the impact of phytochemicals on health, the role of diet in cardiovascular disease, herbal remedies, and trace minerals.
Mark Messina, Ph.D., and

Virginia Messina, M.P.H., R.D. Mark and Virginia Messina are a vegetarian nutrition team. Together, they have founded a new peer-reviewed journal, Vegetarian Nutrition: An International Journal, and Virginia is a co-owner of the first Internet mailing list to address vegetarian issues from a scientific perspective (sci-veg). They have co-authored three books, The Vegetarian Way, The Dietitian's Guide to Vegetarian Diets: Issues and Applications, and The Simple Soybean and Your Health. They also maintain an interactive Web page on which they answer questions about vegetarianism and soy nutrition (http://www.olympus.net/messina).
Mark holds a doctorate in nutrition from Michigan State University and a master's degree in nutrition from the University of Michigan. He has worked for the National Cancer Institute, National Institutes of Health, where he was responsible for identifying research needs in the area of cancer prevention and diet and allocating funding for research into the effects of soy foods on cancer prevention. He writes extensively on the health benefits of soy foods and on plant-based diets, and has given over 100 presentations to both consumers and health professionals on these topics. He also co-edits and writes a regular column for The Soy Connection newsletter, which is sent to 70,000 dietitians. He has organized and/or chaired two symposia on the role of soy in the prevention and treatment of chronic disease_one in Arizona and one in Brussels, Belgium.
Virginia is a registered dietitian with a master's degree in public health and nutrition from the University of Michigan. She has taught nutrition at the university level, was a foods and nutrition specialist for the Michigan Cooperative Extension Service, and was director of nutrition services for George Washington University Medical Center. She is active with The American Dietetic Association's Vegetarian Nutrition Dietetic Practice Group for which she developed and edited its newsletter, Issues in Vegetarian Nutrition. She writes for a variety of publications, including a regular column for vegetarian teens in the publication, How On Earth!, and on plant food issues for Encyclopedia Britannica. She has also co-authored two vegetarian cookbooks, The Vegetarian No-Cholesterol Barbecue Book and The Vegetarian No-Cholesterol Family Style Cookbook.
The Vegetarian Journal published here is not the complete issue, but these are excerpts from the published magazine. Anyone wanting to see everything should subscribe to the magazine.
Converted to HTML by Jeanie Freeman
© 1996- The Vegetarian Resource Group
PO Box 1463, Baltimore, MD 21203
(410) 366-8343 Email: vrg@vrg.org



Last Updated
September 20, 1997

Graphic design by


The contents of this web site, as with all The Vegetarian Resource Group publications, is not intended to provide personal medical advice. Medical advice should be obtained from a qualified health professional.

Any pages on this site may be reproduced for non-commercial use if left intact and with credit given to The Vegetarian Resource Group.

Web site questions or comments? Please email brad@vrg.org.