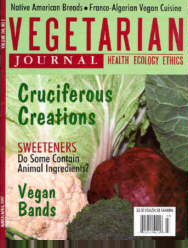 ---
Vegetarian Journal
Excerpts
March/April 1997
Volume XVI, Number 2
---
---
Reviews
---
THE VEGETARIAN WAY: TOTAL HEALTH FOR YOU AND YOUR FAMILY


What would you like to know about vegetarian nutrition? How to feed children? What to eat while traveling? What the latest research says about vegetarianism? How to get calcium without dairy products? What the politics are behind dietary recommendations? To answer these questions in the past, you would have needed to consult several books. No more. Virginia and Mark Messina's The Vegetarian Way is a great resource for anyone interested in vegetarianism.

The Messinas, who have more than thirty years of experience in meatless eating between the two of them, set out to address the full spectrum of vegetarian issues, including nutrition basics, meatless cooking, socializing, and special situations like diabetes and weight control. They have succeeded admirably. They have achieved a remarkable balance between a factual, objective examination of vegetarianism and a user-friendly, readable, and highly useful work.

I am recommending this book to everyone. Those contemplating vegetarianism will find all sorts of information that makes a convincing case for a shift to a meatless diet. New vegetarians can learn all about nutrition as well as what to make for dinner tonight. Seasoned vegetarians will gain from the authors' enthusiasm and clear explanations of how to have an even healthier diet. Lots of sample menus and more than 50 recipes add to this book's usefulness.

If you don't buy another book this year (or for the next several years), do buy The Vegetarian Way. It belongs on every vegetarian's nightstand. The Vegetarian Way (ISBN 0-517-88275-2) is a 390-page book, published by Crown Trade Paperbacks, and can be purchased from The VRG by sending $27 (includes postage) to PO Box 1463, Baltimore, MD 21203.

Reviewed by Reed Mangels, Ph.D., R.D.
---
THE DIETITIAN'S GUIDE TO VEGETARIAN DIETS: ISSUES AND APPLICATIONS
They've done it again! Shortly after reading The Vegetarian Way, I received a copy of Mark and Virginia Messina's other new book, The Dietitian's Guide to Vegetarian Diets: Issues and Applications. It's another remarkable achievemen t.
This book is aimed primarily at dietitians and other health care professionals. It provides the same mix of factual, up-to-the-minute information on vegetarian nutrition and a clear, practical treatment of many issues facing vegetarians. It is written at a somewhat more technical level than The Vegetarian Way, but would be quite readable for those who are familiar with nutrition concepts.
The Dietitian's Guide to Vegetarian Diets addresses nutritional needs of vegetarians, presents a useful food guide for vegetarians, covers the entire life cycle, tells how to counsel vegetarians, and provides information on vegetarian diets for diabetics and athletes. Other useful resources include a comprehensive chapter on vegetarian food preparation, a glossary of vegetarian foods, and tables of various data on vegetarians. The authors have done a superb job of reviewing the scientific literature on vegetarianism. Each chapter is extensively documented.
I recommend this book highly to dietitians, nutritionists, and other health care professionals. Readers with some background in nutrition may also be interested in this book.
The Dietitian's Guide to Vegetarian Diets (ISBN 0-8342-0635-8) is published by Aspen Publishers, Inc., and sells for $49.
Reviewed by Reed Mangels, Ph.D., R.D.
---
HEALTHY CHILDREN, HEALTHY PLANET CURRICULUM
Healthy Children, Healthy Planet is a curriculum guide for grades kindergarten through five. It is published by EarthSave International. This publication uses a variety of learning activities in six lesson plans to teach children about The Food Pyramid, Highfat Foods, and the link between what we eat and the environment. Overall, this is a nice package. The information presented is generally sound, and the activities seem interesting. The authors appear to be recommending a diet with less than 20 percent of calories from fat for children. While this may be appropriate in some instances, it may be difficult for some children to get adequate calories on a diet very low in fat. Lesson plans could (and should) be modified to encourage reduced fat consumption without endorsing a diet of 10-15 percent fat for young children.

Through a generous grant from an EarthSave member, a free copy of Healthy Children Healthy Planet Curriculum is available to the first 5,000 active K-5 teachers who request it. Contact EarthSave at 706 Frederick St., Santa Cruz, CA 95062-2011; (408) 423-4069.

Reviewed by Reed Mangels, Ph.D., R.D.
---
VEGETARIAN TIMES VEGETARIAN BEGINNER'S GUIDE
By the Editors of Vegetarian Times
Starting off as a vegetarian can be a bit intimidating. There are the nutrition- related questions everyone seems to ask you. There are new foods to learn about. There are all sorts of social situations to deal with. Vegetarian Times has produced Vegetarian Beginner's Guide to address some of these needs.
Topics addressed include nutrition basics, the vegetarian pantry, cooking techniques, health, environmental and animal rights issues, and social situations. I was disturbed by a few references to stereotypes of vegetarians (brown, bland food; whacked-out health nuts who live on vitamins, seaweed, and tofu) and felt that the treatment of pregnancy and children was somewhat superficial. Otherwise, the book is, in general, factual and informative. Vegetarian Beginner's Guide includes 14 dinner menus and recipes to go along with the menus. About half of the menus use dairy products. No nutritional analyses of the recipes are included. Surprisingly, none of the menus includes dessert.
This book does not live up to the cover claim that it can answer all the questions about becoming a vegetarian. Still, it provides a good deal of information and will be appealing to those who prefer a brief intro to vegetarianism.
Vegetarian Times Vegetarian Beginner's Guide (ISBN 0-02-860386-9) is published by Macmillan USA and costs $12.95.
Reviewed by Reed Mangels, Ph.D., R.D.
---
THE NEW ORGANIC GROWER
By Eliot Coleman
Today more and more individuals express interest in growing their own organic produce. Eliot Coleman's book, The New Organic Grower, offers information on both the tools and techniques necessary to be a successful organic gardener. Whether you simply desire to grow enough food for your immediate family or do organic gardening on a larger scale and offer the fruits of your labor at the marketplace, this book will be a very valuable tool.
The New Organic Grower (ISBN 0-930031-75-X) retails for $24.95 and can be found in bookstores. It is published by Chelsea Green Publishing Company. For further information call (800) 863-2011.
Reviewed by Debra Wasserman.
---
THE VEGAN GOURMET
By Susann Geiskopf-Hadler and Mindy Tomay
The Vegan Gourmet offers a wide variety of dishes, from appetizers, salads, soups, and stews, to pasta, grain, and stir-fry dishes. You'll also find breakfast ideas and sandwich and burger recipes. For some reason, the book does not include dessert suggestions.
As the title of this book suggests, these recipes are certainly suitable for entertaining. For example, you might want to start off by serving Mushroom Tempeh Pate with Sage, or Focaccia with Fresh Rosemary and Sauted Onions. A sample salad might be Potatoes and Artichokes with Mustard Caper Vinaigrette, or Spicy Eggplant Pasta Salad with Calamata Olives. The list goes on with numerous creative entrees from which to choose.
The Vegan Gourmet (ISBN 0-7615-0027-8) is published by Prima Publishing and can be found in bookstores. The book retails for $14.95.
Reviewed by Debra Wasserman.
---
VEGETARIAN MAGIC
By Chef John B. Nowakowski
Chef Nowakowski is affiliated with the Regency House Natural Health Spa located in Hallandale, Florida. Vegetarian Magic is primarily a vegan cookbook; however, in some recipes soy cheese containing casein (an animal ingredient) is listed as an ingredient. Be sure to substitute vegan cheese or omit the cheese when possible.
This cookbook includes directions on how to make homemade vegan pasta. A number of creative sauces are also offered including a Garlic, Tamari, and Coconut Sauce, and a Wild Mushroom Sauce. Desserts include Frozen Banana Cream Pie, Key Lime Mousse Tart, and Burgundy Poached Pears. Unfortunately, the recipes do not include nutritional analyses.
Vegetarian Magic can be purchased by sending $20.90 per book (includes postage) to JBN Productions, 12484 SW 8th Ct., Davie, FL 33325; or by calling (954) 476-3841.
Reviewed by Debra Wasserman.
---

The Vegetarian Journal published here is not the complete issue, but these are excerpts from the published magazine. Anyone wanting to see everything should subscribe to the magazine.

Converted to HTML by Jeanie Freeman
© 1996- The Vegetarian Resource Group
PO Box 1463, Baltimore, MD 21203
(410) 366-8343 Email: vrg@vrg.org



Last Updated
September 20, 1997

Graphic design by


The contents of this web site, as with all The Vegetarian Resource Group publications, is not intended to provide personal medical advice. Medical advice should be obtained from a qualified health professional.

Any pages on this site may be reproduced for non-commercial use if left intact and with credit given to The Vegetarian Resource Group.

Web site questions or comments? Please email brad@vrg.org.