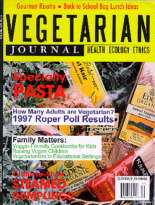 ---
Vegetarian Journal
Excerpts
Sep/Oct 1997

Volume XVI, Number 5
---
---
Veggie-Friendly Cookbooks for Kids
by Rachel Himmelheber
---
There are dozens of children's cookbooks on the market today-however, it is difficult to distinguish which will meet your needs. It is especially difficult for vegetarian parents who want the books they buy to reflect their values and eating habits. Add in a concern for healthy recipes and a desire for the cookbook to have an educational slant, and the task of choosing a children's cookbook can be daunting.
When I began reviewing children's cookbooks for this article, I encountered all these problems and more. I wanted the cookbooks to have an adequate number of vegetarian and vegan recipes, and I wanted them to be generally healthful and educational. I also wanted them to appeal to children. I tried to pick books with colorful illustrations and those that would be appropriate for a variety of age levels. The amount of safety instructions and parental guidelines that these books offer varies. I have tried to include that information in my review so that you can choose accordingly. The following books include all these elements. They all contain vegetarian and vegan recipes and are, for the most part, healthful cookbooks. Be flexible when making the recipes found in these books. Many vegetarian dishes can easily be converted to vegan ones (see sidebar). Explore the different options with your child; creativity is an essential in cooking. Most of all-have fun!
---
Many Friends Cooking:
An International Cookbook for Boys and Girls
By Terry Touff Cooper and Marilyn Ratner
Illustrated by Tony Chen
Published by Philomel Books in cooperation with the U.S. Committee for UNICEF
ISBN# 0-399-20115-4

Age: The recipes in this book are rated by difficulty level-one, two, or three spoons. These recipes are, for the most part, appropriate for older elementary school children with some previous cooking experience. Younger children will do fine with some of the simpler recipes, such as Banana Smoothies or Fresh Fruit with Coconut Dip, provided they have adequate adult help and supervision.

Adult Help: Many Friends Cooking has a safety section which advises children to get an adult's help with certain tasks, such as lighting a gas stove. Many recipes include using the stove or oven, and some involve the use of sharp knives or deep fat frying. Read the recipes carefully with your child before deciding which ones are right for you.

Vegetarian and Vegan Options: Twenty-five of the 38 recipes are vegetarian, five are vegan, and one can easily be adapted to be vegetarian. Most of the recipes are healthful options such as Gazpacho and Couscous, with some delicious treats like Groundnut Crunch mixed in.
Many Friends Cooking is a beautifully illustrated book that teaches children about the culture and foods of different countries and regions. It has many healthful vegetarian selections from places as far away as Israel, Tunisia, and Bolivia, as well as American foods like Indian Corn Pudding and Luau Punch. Children interested in cooking will work their way through the complex recipes, and they can learn how to use chopsticks, fold napkins in fancy ways, and peel tomatoes.


---
Pretend Soup and Other Real Recipes:
A Cookbook for Preschoolers and Up
By Mollie Katzen and Ann Henderson
Illustrated by Mollie Katzen
Published by Tricycle Press
ISBN# 1-883672-06-6

Age: The recipes are appropriate for preschoolers and up.

Adult Help:The guidelines for adult help and supervision are clearly defined in each recipe. However, Katzen makes it clear that your child is the boss; you are the helper. Your child will gain loads of confidence using this approach. Pretend Soup includes adult directions for each recipe, as well as pictorial directions for your child.

Vegetarian and Vegan Options: All 19 recipes are vegetarian. Two are vegan, but many of the vegetarian recipes can be easily adapted to be vegan dishes. Your child will enjoy creating Oatmeal Surprise, Homemade Lemon-Lime Soda Pop, and Zucchini Moons. These options don't sacrifice flavor.
Mollie Katzen has proven herself as a valuable member of the vegetarian community with her popular Moosewood Cookbook, The Enchanted Broccoli Forest, and Still Life with Menu. Pretend Soup more firmly establishes her as a skilled and understanding writer.


---
A Native American Feast
By Lucille Recht Penner
Published by Macmillan Publishing Company
ISBN# 0-02-770902-7

Age: This book doesn't baby the cook with lots of safety rules and cooking basics. A Native American Feast is for the skilled young cook; your child should be able to read and should have the judgment to know when to ask for an adult's help.

Adult Help: This book offers very few guidelines. You may wish to read and discuss the directions with your child before starting these recipes.

Vegetarian and Vegan Options: These recipes are fairly authentic and some do call for venison or buffalo meat. However, of the 27 recipes offered, 19 of them are vegetarian, and 12 are vegan. Few of the meat recipes are easily adapted to be vegetarian ones. The names of these Native American dishes should motivate your child-try making Cherokee Bean Balls, Popped Wild Rice, and Iroquois Strawberry Drink.
A Native American Feast is an excellent cookbook for a child who is more experienced in the kitchen. It contains a lot of interesting historical information, and this cookbook also includes many traditional Native American customs.
---
The Anne of Green Gables Cookbook
By Kate Macdonald
Illustrated by Barbara Di Lella
Published by Oxford University Press
ISBN# 0-19-540496-3

Age: These recipes have some difficult elements, including lots of baking. However, with some adult supervision, even an inexperienced cook who can read the Anne of Green Gables series could manage these recipes.

Adult Help: The degree of adult help necessary will depend upon your child's cooking experience. Review the recipes together before beginning.

Vegetarian and Vegan Options: Of the 25 recipes included in this book, 22 are vegetarian and five are vegan. You could easily substitute vegetable broth for the chicken broth in Thick and Creamy Vegetable Soup to make it a vegetarian recipe. Most of these recipes are desserts or treats to be made and eaten occasionally. How about an indoor, rainy-day picnic with Splendid Lettuce Salad, Maritime Gingersnaps, and Old-Fashioned Lemonade?
Vegetarian and vegan fans of the Anne of Green Gables series will enjoy this cookbook. All the recipes are inspired by Anne and her cooking adventures.
---
American Heart Association Kids' Cookbook
Edited by Mary Winston, Ed.D., R.D.
With a Special Message from James H. Moller, M.D.
Illustrated by Joan Holub
Published by Random House
ISBN# 0-8129-2011-0

Age: This book has a difficulty rating system-one to three chef's hats, three being more difficult. Older children should be able to handle most recipes on their own.

Adult help: Kids' Cookbook is very specific in its safety instructions. Younger children will need supervision, although not necessarily help, with even the simplest recipes.

Vegetarian and Vegan Options: Of the 34 recipes in this book, 23 are vegetarian and nine are vegan. Several will easily adapt to be vegetarian. All teach children about cooking and good eating habits.
Kids' Cookbook provides an excellent nutritional guide for adults concerned about their child's diet. It also includes advice about diet, exercise, general health habits, and valuable cooking techniques.
---

The Vegetarian Journal published here is not the complete issue, but these are excerpts from the published magazine. Anyone wanting to see everything should subscribe to the magazine.

Converted to HTML by Jeanie Freeman
© 1996- The Vegetarian Resource Group
PO Box 1463, Baltimore, MD 21203
(410) 366-8343 Email: vrg@vrg.org



Last Updated
September 20, 1997

Graphic design by


The contents of this web site, as with all The Vegetarian Resource Group publications, is not intended to provide personal medical advice. Medical advice should be obtained from a qualified health professional.

Any pages on this site may be reproduced for non-commercial use if left intact and with credit given to The Vegetarian Resource Group.

Web site questions or comments? Please email brad@vrg.org.