Spring 1997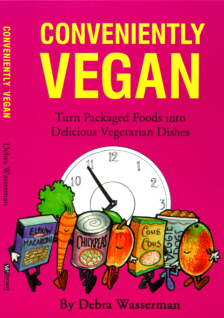 Turn Packaged Foods into Delicious Vegetarian Dishes
Debra Wasserman, co-director of The Vegetarian Resource Group, has created 150 healthy vegan recipes using convenience foods along with fresh fruits and vegetables. Explore creative ideas for old favorites, including Potato Salad, Stuffed Peppers, Quick Sloppy Joes, 'Hot Dogs' and Beans, Lasagna, Bread Pudding, and Chocolate Pie. Add a variety of fruits and vegetables to your diet with Mango Dressing, Asparagus and Dried Fruit, Cauliflower Curry, Sautéed Portabello Mushrooms, Orange Sweet Potato Soup, and Baked Acorn Squash.

Discover how to use natural foods products in dishes such as Black Bean and Corn Chowder, Bulgur and Tomato Soup, Basmati Rice Burgers, Mexican Noodle Casserole, Tofu Cutlets, Korean Barbecued Seitan, and Spicy Mandarin Chickpeas. Menu Ideas, Food Definitions, and Product Sources are included.

Conveniently Vegan will be available this summer for $15. Debra's previous books include Simply Vegan, Meatless Meals for Working People, The Lowfat Jewish Vegetarian Cookbook, and No Cholesterol Passover Recipes. She also edited Vegetarain Journal's Guide to Natural Foods Restaurants in the US and Canada and Vegan Handbook.
© 1996- The Vegetarian Resource Group
PO Box 1463, Baltimore, MD 21203
(410) 366-8343 Email: vrg@vrg.org



Last Updated
September 20, 1997

Graphic design by


The contents of this web site, as with all The Vegetarian Resource Group publications, is not intended to provide personal medical advice. Medical advice should be obtained from a qualified health professional.

Any pages on this site may be reproduced for non-commercial use if left intact and with credit given to The Vegetarian Resource Group.

Web site questions or comments? Please email brad@vrg.org.