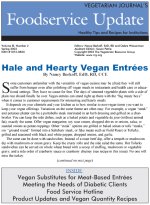 ---
Vegetarian Journal's
Foodservice Update
Excerpts
Volume XI, Number 2     Spring 2003
Editors: Nancy Berkoff, Ed.D., R.D.
and Debra Wasserman
Assistant Editor: Susan Petrie
---
---
A sampling from the Spring 2003 issue of Vegetarian Journal's Foodservice Update, published quarterly by the Vegetarian Resource Group.
---
Original Table of Contents
By Nancy Berkoff, EdD, RD, CCE
Diabetic Clients
Vegan Tidbits
- Sweet Potatoes for Dessert
- Lentils with Olives
- Cranberry/Pear Chutney

Click here to go to the main foodservice page (Vegetarian Journal's FoodService Update and Quantity Cooking Information with links to each issue).
For the complete issue, please subscribe to the magazine. To subscribe to Vegetarian Journal's Foodservice Update, click here and check "Add 1 year Foodservice Update for $10 more" on whatever subscription form you choose.
Thanks to volunteer Stephanie Schueler for converting this article to HTML.

© 1996- The Vegetarian Resource Group
PO Box 1463, Baltimore, MD 21203
(410) 366-8343   Email:
vrg@vrg.org
Last Updated
Nov. 3, 2004
The contents of this website and our other publications, including Vegetarian Journal, are not intended to provide personal medical advice. Medical advice should be obtained from a qualified health professional. We often depend on product and ingredient information from company statements. It is impossible to be 100% sure about a statement, info can change, people have different views, and mistakes can be made. Please use your own best judgment about whether a product is suitable for you. To be sure, do further research or confirmation on your own.
Web site questions or comments? Please email vrg@vrg.org.