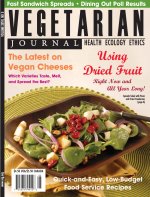 ---
Vegetarian Journal
Excerpts
2008 Issue 3
Volume XXV, Number 3
---
---
A sampling from the 2006 issue 1 of The Vegetarian Journal, published by the Vegetarian Resource Group.
---
Original Table of Contents
Features:
Dried Fruit: Treasures to Savor All Year Round
Debra Daniels-Zeller incorporates apricots, cherries, dates, figs, prunes, raisins, and more into every course of your meal.
Jeanne Yacoubou, MS, learns the latest about cheesemaking ingredients.
Vegan Cheese: New and Improved Versions
VRG Dietetic Intern Melanie Campbell tests products for nutrition, taste, meltability, and more.
How Many People Order Vegetarian Meals When Eating Out?
See the results of The VRG's latest poll.
Quick-and-Easy, Lower Budget Vegan Items to Serve in Institutional Settings
Chef Nancy Berkoff stretches your dollar in this Foodservice Update.
Vegetarianism in Political Magazines
VRG Intern Bobby Allyn searches LexisNexis for articles on vegetarianism and veganism.
Departments
Are there links between my daughter's acne and her vegetarian diet?
Letters to the Editors
Fast Sandwich Spreads, by Chef Nancy Berkoff
Notes from The VRG Scientific Department
Catalog
Chef Ralph Estevez: An Interview with the Team Chef of the Washington Redskins, by Melanie Campbell
Help Promote Vegetarianism with New VRG Graphics!
---
---

© 1996-2016 The Vegetarian Resource Group
PO Box 1463, Baltimore, MD 21203
(410) 366-8343 Email:
vrg@vrg.org
The contents of this website and our other publications, including Vegetarian Journal, are not intended to provide personal medical advice. Medical advice should be obtained from a qualified health professional. We often depend on product and ingredient information from company statements. It is impossible to be 100% sure about a statement, info can change, people have different views, and mistakes can be made. Please use your own best judgment about whether a product is suitable for you. To be sure, do further research or confirmation on your own.
Web site questions or comments? Please email vrg@vrg.org.