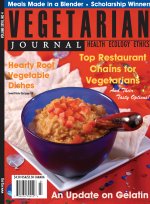 ---
Vegetarian Journal
Excerpts
2008 Issue 4
Volume XXV, Number 4
---
---
A sampling from the 2008 issue 4 of The Vegetarian Journal, published by the Vegetarian Resource Group.
---
Original Table of Contents
Features:
Degra Daniels-Zeller makes hearty cuisine from beets, turnips, and moore.
VRG finds the top restaurant chains for vegetarians.

Patra

Chef Nancy Berkoff, RD, EdD, CCE, teaches how to make these green and gold pinwheels from the Indian state of Gujarati.
VRG's Research Director Jeanne Yacoubou brings you the latest info.
Departments:
Nutrition Hotline
How common are soy allergies? And is consuming soy bad for adults?
Note from the Coordinators
Letters to the Editors
Gift Subscriptions
Vegan Cooking Tips
Blender Meals, by Chef Nancy Berkoff
Notes from The VRG Scientific Department
Scientific Update
Veggie Bits
Book Reviews
Vegetarian Action
Neelie McKay, by Bobby Allyn
VRG's Heart Healthy Eating Tips Brochure Updated!
---
---

© 1996-2015 The Vegetarian Resource Group
PO Box 1463, Baltimore, MD 21203
(410) 366-8343 Email:
vrg@vrg.org
The contents of this website and our other publications, including Vegetarian Journal, are not intended to provide personal medical advice. Medical advice should be obtained from a qualified health professional. We often depend on product and ingredient information from company statements. It is impossible to be 100% sure about a statement, info can change, people have different views, and mistakes can be made. Please use your own best judgment about whether a product is suitable for you. To be sure, do further research or confirmation on your own.
Web site questions or comments? Please email vrg@vrg.org.