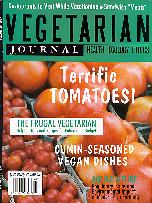 ---
Vegetarian Journal
Excerpts
Jul/Aug 1997

Volume XVI, Number 4
---
---
Terrific Tomatoes
By Jacqueline Dunnington
---
The ancient civilizations of Central and South America have offered a gourmet gift to the entire world-the tomato. The word itself comes directly from the Nahuatl language of the Aztecs who called their delicacy the tomatl. The Spaniards who conquered Mexico, Central and South America returned to Europe in the 1500s with seeds for the tomato plant. These first seeds were for the yellow variety of the tomato, then called pomi d'oro, or apples of gold. The Italians were among the first Europeans to enjoy this gourmet treat; they concocted the original tomato sauces in Florence. In the 1600s the French, and later the English, began to include this edible plant from the New World in their culinary arts.
After a reverse migration back to the New World, the tomato reached the United States, where it was first scorned on the basis of a false notion that it was poisonous. A few daring souls started to consume the tomato in the early nineteenth century, and it has been a staple of our diet ever since. The Supreme Court was once involved in a battle as to whether the tomato is a fruit or vegetable. As a result, the tomato is legally a vegetable and botanically a fruit.
There are over 500 varieties of tomato seeds available that will produce sizes ranging from that of a grape to a "beefsteak" weighing a kilo (2.2 pounds). Tomatoes are good sources of vitamin C and vitamin A, and they are a great source of dining pleasure.
---
Recipes
Fresh Green and Red Tomato Chutney
(Yields about 2 pints)



A zesty relish adapted from the kitchens of India.

4 cups peeled and finely chopped green
tomatoes
3 cups peeled and finely chopped red tomatoes
1/2 cup rice syrup or other liquid sweetener
1 very ripe mango, peeled and finely chopped
1 scant cup apple cider vinegar
1 large yellow onion, slivered
1/2 teaspoon each ground ginger, curry, turmeric, and coriander powder
1 teaspoon each cumin and mustard seeds
Freshly-cracked pepper to taste

In a deep-sided pot, combine all ingredients. Cover; simmer over lowest heat at least an hour, stirring often until thick. Remove from heat. Cover and let stand until serving time. Relish can be stored in glass jars in the refrigerator for at least four weeks.

Total calories per 2 tablespoon serving: 31
Fat: <1 gram

---
Tomatoes Stuffed with Pistachio Nuts
(Serves 4)



A meal-in-one from Lebanon.

4 large tomatoes
1 cup finely chopped onion
2 cloves garlic, minced
2 teaspoons olive oil
1/2 cup shelled, chopped pistachio nuts
11/4 cups whole-wheat bread crumbs, dried and crushed
1 Tablespoon finely snipped fresh mint leaves
Freshly-cracked pepper to taste
1 cup vegetable broth

Preheat oven to 375 degrees. Prepare tomato shells by plunging whole tomatoes in boiling water, peeling them and slicing off a bit of the tops. Remove and pure pulp. Saut onions and garlic in oil until golden. Remove from heat, combine with nuts, bread crumbs, pulp, and seasonings. Fill tomatoes and set in baking dish, cover with broth and bake about 30 minutes, covered with foil first 15 minutes, then uncovered 15 minutes longer. Baste often and serve hot or chilled.

Total calories per serving: 280
Fat: 13 grams

---
Double Tomato and Roasted Pepper Sauce
(Serves 4-6)



A luscious, flavorful sauce for your favorite pasta.

2 cups crushed tomatoes
1/2 cup finely chopped sun-dried tomatoes
1/2 cup white wine or water
1 small red bell pepper, seeded and
quartered
1 small green bell pepper, seeded and
quartered
1/2 cup finely chopped white onion
2 cloves garlic, minced
2 or 3 shallots, peeled and minced
1 Tablespoon olive oil
Large pinch each dried, crumbled basil and rosemary
Freshly-cracked pepper to taste
Salt to taste (optional)

Soak crushed and sun-dried tomatoes in wine or water for one hour. Preheat broiler, set peppers (skin side out and flattened with your fingers) in broiling pan 4 inches below flame, cook until skin blackens, and remove from heat. Seal in paper bag for 10 minutes, remove, rinse under running tap water, remove peel, and chop finely.
In a deep-sided pot, saut onion, garlic, and shallots in oil until soft. Add all crushed tomatoes, sun-dried tomatoes and liquid, peppers, and seasonings. Simmer, covered, 20 minutes. Stir occasionally. Serve hot over pasta.

Total calories per serving (without pasta): 115
Fat: 4 grams

---
Tomato, Corn and Squash Fricassee
(Serves 4)
A simple delight, fresh from the garden.


1 cup finely chopped red onion
1 large clove garlic, minced
1 Tablespoon corn or olive oil
4 large, ripe tomatoes, chopped
1 zucchini (about 12 inches long), sliced
1 yellow squash (about 12 inches long), sliced
1 cup thinly sliced raw or frozen okra
1 cup low-salt tomato juice
Large pinch each of dried chives, basil, and parsley
Salt or salt substitute and freshly-cracked
pepper to taste
1 cup cooked brown rice

Heat oil in a deep-sided soup pot; brown chopped onion with garlic. Add all vegetables, seasonings, and juice. Lower heat, cover, and simmer for about 25 minutes. Add rice and mix well. Cook until rice is heated through and serve in deep bowls with salt-free crackers.

Total calories per serving: 172
Fat: 5 grams


---
Cold Curried Tomato and Corn Soup
(Serves 4)
An easy to prepare, hearty soup.

4 cups peeled and chopped very ripe tomatoes
1 cup finely chopped sweet red onion
1/2 cup seeded and slivered green pepper
1 teaspoon each curry powder and cumin seeds
Freshly-cracked pepper to taste
1 cup fresh, frozen, or canned corn kernels, drained
Garnish: 2 Tablespoons finely snipped fresh chives

Combine all ingredients (except corn and chives) in a blender or food processor and blend until smooth. Stir in corn and chives. Serve hot or chilled with rice cakes or pita bread.

Total calories per serving: 109
Fat: 1 gram

---
Tomato, White Bean, and Orange Salad
(Serves 4)
An innovative combination of flavors and textures.


2 large, ripe tomatoes, peeled and cut into very thin wedges
1 cup cooked white beans, drained
1/2 cup fresh orange segments
1/2 cup very finely slivered sweet onion
11/2 Tablespoons olive oil
1 Tablespoon apple cider vinegar
1/4 cup finely snipped fresh cilantro leaves
Salt and freshly-cracked pepper to taste

Combine all ingredients in a large salad bowl, mix well, and serve with crusty whole wheat bread.

Total calories per serving: 142
Fat: 6 grams

---

The Vegetarian Journal published here is not the complete issue, but these are excerpts from the published magazine. Anyone wanting to see everything should subscribe to the magazine.

Converted to HTML by Jeanie Freeman
© 1996- The Vegetarian Resource Group
PO Box 1463, Baltimore, MD 21203
(410) 366-8343 Email: vrg@vrg.org



Last Updated
September 20, 1997

Graphic design by


The contents of this web site, as with all The Vegetarian Resource Group publications, is not intended to provide personal medical advice. Medical advice should be obtained from a qualified health professional.

Any pages on this site may be reproduced for non-commercial use if left intact and with credit given to The Vegetarian Resource Group.

Web site questions or comments? Please email brad@vrg.org.