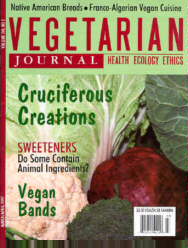 ---
Vegetarian Journal
Excerpts
March/April 1997
Volume XVI, Number 2
---
---
Vegetarian Journal's Guide to Natural Sodas
By Reed Mangels, Ph.D., R.D.
---
Take lots of sugar (or high fructose corn syrup), combine it with carbonated water, toss in some phosphoric acid, caffeine, and artificial flavor and color and what do you get? A soft drink. If you're a typical American, you drink more than 30 gallons of soft drinks per year. That's a lot of sugar, additives, and possibly caffeine. So-called "natural" sodas exist with claims like "fruit juice sweetened," "no preservatives," and "no caffeine." Are these a better alternative?
Natural sodas come in most of the same flavors as you'd find in cans and bottles at your local convenience food store. There are natural colas, root beers, ginger ales, and fruit-flavored sodas. Some of the more unusual offerings include R.W. Knudsen's Mango Spritzer, After the Fall's Amaretto Almond Creamie, Natural Brew's Ginseng Cola, Hansen's Raspberry, and Blue Sky's Orange Creme.
Ingredients vary widely also. Some companies, such as After the Fall, R.W. Knudsen, and Tianfu China Cola use fruit juice concentrate as the sweetener. All of the flavor, color, and nutrients in fruit are often removed in the process, leaving some fruit juice concentrates as little more than sugar water. The consumer can't really know if the juice concentrate used in a favorite soda is "stripped" juice or not. Other companies use fructose as a sweetener (Blue Sky and Tianfu China Cola) while others use evaporated sugar cane juice (Natural Brew). Journey uses a variety of sweeteners including unrefined corn syrup, brown rice syrup, maple syrup, and barley malt. This company's Asian Spice Ginger Brew and Shenandoah Root Beer contain honey. In general, while these sweeteners may sound more natural than high fructose corn syrup, they are still sugar and are generally a source of only calories. Natural sodas usually don't contain the artificial colors and flavors and caffeine found in more mainstream sodas. They often contain juice, although as previously noted this may be fruit juice which has been stripped of color and flavor. Natural flavors are often derived from extracts of herbs and spices or fruits.
>From a nutrition standpoint, natural sodas are quite similar to commercial sodas. They generally have around 150 calories in 12 ounces, almost all from sugar. They contain only a small amount of sodium and little or no vitamins or minerals. While an occasional soda can be great on a hot day, none should be the drink of choice on a regular basis.
Suppose you'd like a refreshing cold beverage but would prefer to avoid sodas, natural or otherwise. What are the alternatives? Water is certainly one choice. Try mineral water or sparkling water for a change. Add a twist of lemon or lime. Want something a bit sweeter? Try mixing one part fruit juice with one part seltzer or sparkling water. Sample the wide variety of sparkling juices (apple cider, grape juice, cranberry cider, cherry cider, for example) which are available.
---
The Vegetarian Journal published here is not the complete issue, but these are excerpts from the published magazine. Anyone wanting to see everything should subscribe to the magazine.

Converted to HTML by Jeanie Freeman
© 1996- The Vegetarian Resource Group
PO Box 1463, Baltimore, MD 21203
(410) 366-8343 Email: vrg@vrg.org



Last Updated
September 20, 1997

Graphic design by


The contents of this web site, as with all The Vegetarian Resource Group publications, is not intended to provide personal medical advice. Medical advice should be obtained from a qualified health professional.

Any pages on this site may be reproduced for non-commercial use if left intact and with credit given to The Vegetarian Resource Group.

Web site questions or comments? Please email brad@vrg.org.