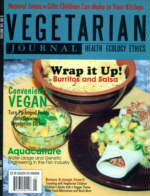 ---
Vegetarian Journal
Excerpts
May/June 1997
Volume XVI, Number 3
---
---
Wrap It Up!
Delighting the Taste Buds with Burritos & Salsa
By Nancy Berkoff, R.D., Ed. D.
---
It's said that one cannot judge a book by its cover; the same might be said for a wonderful gift. Hidden under a plain brown wrapper may be the answer to all your dreams. A burrito may not offer the secret to world peace, but it can certainly quell some major rumblings at meal time.
A burrito is a savory roll-up consisting of a tortilla and filling. Burritos can be sweet or spicy; eaten hot or cold as a main course, dessert, or snack; or served at breakfast, lunch, or dinner.
Every culture has its version of the burrito_that is, a flat bread rolled around an interesting filling. Cooks everywhere cannot seem to resist using edible wrappers to surround flavorful stuffings; think blintzes, crepes, spring rolls, socca, and calzone. Not satisfied being restricted to only bread, we have expanded to the plant world and use leaves too: think of stuffed cabbage, grape leaves, and romaine.
But, the burrito reigns supreme in acceptance across many cuisines and among all age groups_no utensils are necessary to enjoy it, and even plates are optional.
Before considering the filling, one must address the exterior of the burrito, namely, the tortilla. Tortilla means "little cake" in Spanish and at one time was the major bread eaten in the New World. You can buy tortillas ready-made, fresh, or frozen. Be sure to label-read, as most flour tortillas are prepared with fat as an ingredient_many tortilla-producers are replacing the traditional lard with plant oils. Corn tortillas are not usually made with any fat and so most are a safe bet. Tortillas do not have a long shelf life (they generally are made without preservatives); so if purchasing more than you can eat in one or two days, refrigerate or freeze until ready to use. To bring tortillas to life, wrap a stack in foil and heat in a 325 degree oven for approximately 7 minutes, or wrap in a dampened paper towel and microwave. To heat authentically, place a tortilla on the open flame of your gas stove-top burner or barbecue, turning frequently to avoid burning (watch your fingers!). Frozen tortillas should be thawed in the refrigerator before reheating. Refrigerated tortillas can be heated right from the fridge. An interesting tortilla product seen in some markets is a ready-to-cook tortilla_it's been mixed and formed, and you have only to heat it to the doneness you desire. But once again, label-read for the type of fat used. For variety, buy whole wheat tortillas or even spring-roll wrappers; some ethnic markets may have tortillas colored with vegetable dyes for festive occasions.
If you have the time, freshly-made tortillas are moister and generally more flavorful than market-bought tortillas. You don't need any special equipment, but you do need time, patience, and if possible, a tortilla coach.
The best tortillas are made of hominy that has been freshly boiled, drained, and then finely ground. These wet-hominy tortillas you make are much closer to the true Central American type than store-bought, which are made with dehydrated hominy. As you are grappling with the fresh dough (it can be sticky), remember that these tortillas will not dry out as quickly as store-boug ht and will keep very well in the freezer or the refrigerator.
To begin, drain 2 cups of cooked hominy (canned is fine) and grind as finely as possible in a food processor or food mill; add salt if you like, to your taste. Shape hominy dough into 1- or 2-inch diameter balls and cover with wax paper to keep moist while you are working with them (an inverted bowl works, too). Place one ball on a square of plastic wrap and cover with another square of plastic. Press flat with your hand or the bottom of a pan to about 1/2-inch thickness. Peel off the plastic, put onto a hot skillet or grill and cook for two minutes on each side, or until each side is golden. The tortilla will stiffen and become flecked with brown. This will give you about 12 tortillas, which you may then stuff for burritos or refrigerate for later use.
The filling for burritos can be as ornate or as easy as you like. Have some leftover mashed potatoes, veggie burgers (either homemade or commercially prepared) or mashed beans? Simply season them with garlic, onions, and chili and use as a filling; the same can be done if you are baking and have a bit of apple or peach pie filling left over. Season with additional cinnamon and nutmeg and use as a dessert burrito filling. The recipes at the end of this article will give you some more ideas.
Many burrito fillings are bean-based, which is excellent from a health and cost standpoint. In addition to being very economical, beans are a "near-perfect" food, high in carbohydrate, protein, fiber, thiamin, niacin, riboflavin, folic acid, iron, calcium, potassium, phosphorus, and zinc. Beans are low in sodium and fat (of course, canned beans will be higher in sodium which is added as a preservative) and are digested slowly, giving a feeling of fullness for a long time.
Canned versus "from-scratch" beans are your choice. Some people feel when they cook their own beans, they can control the texture and the flavor (and obviously the salt content). However, one must have the time to cook them. Canned beans are the short time alternative. Soaking or not soaking beans seems to be a controversial issue among bean cooks. Beans may be soaked overnight, "quick-soaked" by boiling for two or three minutes and then soaking for an hour before final cooking, or not presoaked at all (which will add about 30 more minutes of cooking time). If using canned beans, no cooking is necessary before combining for a burrito filling, but they should be drained and rinsed well to get rid of excess salt and "slime."
When figuring out how much to cook, use this bean-guide: one pound of dried beans is equal to 2 cups of dried beans; one cup of dried beans will make 2 to 3 cups of cooked beans, and one 16-ounce can of cooked beans will drain to 13/4 cups of cooked beans.
A burrito is a self-contained meal, but you may want to serve some accompaniments to color up the plate and avoid palate-blindness. Tomato salsas are traditional burrito partners; they can be purchased refrigerated or canned and then spruced up with your own fresh ingredients such as lime juice, chopped bell peppers, fresh cilantro, cut corn, diced mango or papaya, or chopped onion. Fresh or grilled fruit salsas can be made in season, with chopped fruit (try peaches, apricots, or plums), chopped onions, cilantro, and chili, as can fresh chutneys. Hot vegetable sauces for dipping add color and flavor, as do spicy steamed vegetables or grains. (Try a barley pilaf or an amaranth risotto, seasoned with chili, tomatoes, and lemon.) Spicy burritos can be served cold with salsa for a take-along lunch. Savory burritos with a crisp salad and a hot sauce can be a sit-down lunch or dinner entree. Sweet burritos (stuffed with fruit and sweetened rice or other grains) can be a dessert or snack. Leftover burritos can be frozen or refrigerated for midnight raiding parties. So keep the plates in the pantry and roll out the burritos!
---
Recipes
On-the-Ranch Corn and Bean Burrito Filling
Serves 6


This recipe is star-studded with crunchy corn and bouncy beans.

1 cup fresh or frozen whole kernel corn
2 cups cooked black beans
11/2 cups whole cooked soybeans
2 Roma tomatoes, chopped
1 teaspoon olive oil
5 Tablespoons chopped white onion
2 ounces chili pepper (mild or hot, your preference), chopped
1 bell pepper, chopped
1 clove garlic, minced
1 teaspoon ground cumin
1 teaspoon ground oregano
2 teaspoons fresh cilantro
2 Tablespoons lime juice

In a large bowl, combine corn, both beans, and tomatoes and mix until combined. Heat oil in a saut pan and add onion, peppers, and garlic; saut until soft. Add bean mixture to pan and toss until well heated. Add seasonings and juice and heat until spices are well incorporated.

Serving Suggestions: This recipe holds very well and even tastes better the second day_keep refrigerated, but do not freeze (it will become mealy in texture). Serve rolled in a tortilla, as a thick dip for vegetables or crackers, or stuffed in a pita pocket.

Total calories per serving: 204
Fat: 5 grams


---
Sweet Potato-Pecan Burrito Filling
Serves 6



This sweet filling combines good nutrition with beautiful colors and wonderful flavor. Use this as a holiday dessert, or a snack any time.

2 pounds fresh sweet potatoes, peeled and diced
1/2 teaspoon molasses
1/2 cup pecan pieces
2 Tablespoons maple syrup
1 Tablespoon chili powder
1/4 cup dried cranberries or raisins
2 Tablespoons water
1 Tablespoon orange or pineapple juice

Boil sweet potatoes with molasses in a large pot of water until just soft (still able to hold their shape). Drain, add pecans, set aside. In a saucepan, heat syrup, chili powder, cranberries, water, and juice for about 3 minutes over medium heat or until thick. Let cool and add to sweet potatoes.
Fill tortillas with mixture and top with powdered sugar or chopped dried fruit.

Total calories per serving: 251
Fat: 6 grams


---
Carrot, Pineapple, and Olive Salsa
Makes about 2 cups (8 servings)



Add color to your burritos with this brilliant salsa.

7 medium carrots, finely grated
2 Tablespoons crushed pineapple
3 black olives, pitted and chopped finely
1 Tablespoon lime juice
1 teaspoon lime zest
1/2 teaspoon chili powder
1 Tablespoon olive oil

Combine all ingredients in a glass or ceramic bowl until well-mixed; refrigerate until serving.

Total calories per 1/4 cup serving: 46
Fat: 2 grams


---
Mango-melon Salsa
Makes about 2 cups



This delicious salsa can put out the "fire" of the hottest burrito.

1 cup diced melon (select according to season)
1 cup fresh mango, peeled and diced
1/2 serrano (or milder) chili, seeded and minced
1 teaspoon fresh mint, shredded
1 Tablespoon lime juice
1/2 cup diced pineapple (fresh or canned)
1 Tablespoon ground ginger
1 Tablespoon fresh cilantro, chopped

Combine all ingredients in non-reactive pan and mix thoroughly. Refrigerate until serving (actually tastes better the second day!).

Total calories per 1/4 cup serving: 33
Fat: <1 gram


---
Red And White Bean Burrito Filling
Serves 6



Combine two types of beans for heightened color and flavor.

1 cup cooked red beans
1/2 cup cooked white beans
2 Tablespoons diced onions
1 clove garlic, minced
1/4 cup sun-dried tomatoes, drained (if in oil) and minced
2 jalapeo (or milder) chilis, seeded and minced
1 teaspoon lemon zest
2 teaspoon fresh parsley, minced
1/2 teaspoon cayenne pepper

In a non-stick pan, mix together beans, onions, garlic, and tomatoes and heat until well combined. Remove from pan and mash (if desired; if you prefer a chunky texture, skip this step).
Add remaining ingredients, mix and heat until flavors are well combined. Serve as a burrito filling.

Total calories per serving: 65
Fat: <1 gram


---
Black-Eyed Pea Burrito Filling
Serves 5



This is a hearty and spicy filling.

1/2 cup cooked black-eyed peas
1 fresh jalapeo chili, seeded and finely chopped
3 fresh jalapeo chilis, 1 serrano chili, 1 red bell pepper, and 1 green pepper, seeded and finely chopped
1 small yellow onion, chopped
1/2 cup celery, chopped
1/2 cup carrots, chopped
1 medium tomato, chopped
2 bay leaves
2 Tablespoons vinegar
1/4 cup fresh cilantro, chopped
1 teaspoon black pepper
1/2 teaspoon marjoram

Mix peas and one jalapeo together; mash and set aside.
Mix remaining ingredients together in large pot, add one inch of water, and allow to simmer, covered, until carrots and celery are soft.
Add pea mixture and vegetables together until well combined and heat thoroughly. Use as filling for burritos; serve with mildly-seasoned rice and a mixed green salad.

Total calories per serving: 53
Fat: <1 gram


---
The Vegetarian Journal published here is not the complete issue, but these are excerpts from the published magazine. Anyone wanting to see everything should subscribe to the magazine.

Converted to HTML by Jeanie Freeman
© 1996- The Vegetarian Resource Group
PO Box 1463, Baltimore, MD 21203
(410) 366-8343 Email: vrg@vrg.org



Last Updated
September 20, 1997

Graphic design by


The contents of this web site, as with all The Vegetarian Resource Group publications, is not intended to provide personal medical advice. Medical advice should be obtained from a qualified health professional.

Any pages on this site may be reproduced for non-commercial use if left intact and with credit given to The Vegetarian Resource Group.

Web site questions or comments? Please email brad@vrg.org.