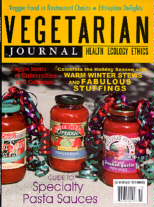 ---
Vegetarian Journal
Excerpts
Nov/Dec 1997
Volume XVI, Number 6
---
---
A sampling from the Nov/Dec 1997, issue of The Vegetarian Journal, published bi-monthly by the Vegetarian Resource Group.
---
Special Sale on Gift Subscriptions to the Vegetarian Journal
---
Original Table of Contents
Features:
Warming Winter Stews
Is the Current RDA for Vitamin C Adequate?
Vegan Ethiopian Delights
Regulars:
Nutrition Hotline: Fighting the urge to binge.
Letters to the Editors
Notes from the Scientific Department
Veggie Bits
Scientific Update
Product Reviews
Vegetarian Action
The Vegetarian Journal published here is not the complete issue, but these are excerpts from the published magazine. Anyone wanting to see everything should subscribe to the magazine.
Special Sale on Gift Subscriptions to the Vegetarian Journal
© 1996- The Vegetarian Resource Group
PO Box 1463, Baltimore, MD 21203
(410) 366-8343 Email: vrg@vrg.org



Last Updated
October 31, 1997

Graphic design by


The contents of this web site, as with all The Vegetarian Resource Group publications, is not intended to provide personal medical advice. Medical advice should be obtained from a qualified health professional.

Any pages on this site may be reproduced for non-commercial use if left intact and with credit given to The Vegetarian Resource Group.

Web site questions or comments? Please email brad@vrg.org.