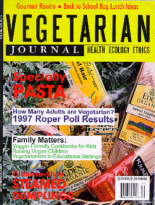 ---
Vegetarian Journal
Excerpts
Sep/Oct 1997

Volume XVI, Number 5
---
---
Vegetarianism in Educational Settings
By Carol M. Coughlin, R.D.
---
One issue confronting vegetarian parents is schooling. Do you choose public, private, religious, or homeschool? There are so many factors, and being vegetarian is just one of them.
I will never forget our one and only attempt at storytime at the local library. The story was about teddy bears. After reading the story, the librarian began to explain how the teddy bear was named after Teddy Roosevelt, what a great hunter he was, and how animals would starve to death if we did not shoot them. I nearly choked. That was our last story hour and a great lesson that you can never examine an educational setting too closely. Many of the problems you will be confronted with have no single correct answer. You should rely on your personal beliefs. Is it okay for your child to use leather or feathers in an art project? Does the reading teacher have a big jar of candy on her desk? Will your child be asked to dissect an animal? Are there pets in the classroom? Spend as much time researching these issues as you do the cost and educational issues at the school.
Classroom Eating
We usually think of lunch when we think of eating at school, but what about snacks and parties? Will your child be the only one passing up non-vegan snacks? I doubt it. These days many kids have allergies, and there are special diets galore, from low cholesterol to those restricted by religious beliefs. Then there are children who simply do not like the flavor of certain foods. Rare is the snack that is not passed up by at least one child.
Plan Ahead
Discuss food issues with teachers. Many public schools will let you select a teacher even if they don't advertise this fact. You may pass on the teacher wearing the leather skirt, and lean toward the one with the vegetable pictures on the wall. When you tell the teacher your child is vegetarian, does he or she answer with "ovo-lacto or vegan?," or does he or she make a face like "not one of those?"
Enlist the Teacher or Educator
Many teachers do not like candy and junk food in the classroom. My daughter Claire's teacher has banned frosting because it messes up the rug. This has eliminated much of the cake issue. Sarah's teacher banned candy from lunches. Having rules set about what is expected can eliminate the need for your child to have to say no to non-vegan snacks.
Is it Your Turn to Bring in a Snack for Your Child's Class?
Try something new. The most popular snack I ever sent in with my kids was not the banana muffins, popcorn, rice cakes, or even the watermelon (although that was close). It was couscous and lentils, much to the surprise of the preschool teacher. Actually, she has since confessed she had never seen couscous, but now it is one of her favorite foods! Be daring! Vegetables and dip was once an exotic snack, yet is now commonplace. Tofu smoothies, vegan bacon, "fib ribs," homemade bread sticks, and bagels are all popular snacks.
Lunch
Does everyone buy the same lunch? Can kids go off campus? Does everyone bring a sack lunch? Does the school allow trading? What alternate foods are offered? Some parents worry that their child will be singled out for having a lunch full of "different" food. Make your child's lunch so cool it is the envy of the school. Try veggies and fruits with a dip, a thermos of refried beans with crisp tortilla chips, trail mix or granola, dried fruits, and nuts. Try some different sandwich ideas, too. Peanut butter and jelly is okay-but peanut butter and banana is a treat. Try almond butter, cashew butter, or hazelnut butter instead of peanut butter. Stuff a pita with hummus and shredded carrots.
Cut It Out
A plain old sandwich can be more fun in a different shape. A heart says, "I love you." How about a star for your star pupil? Seasonal shapes like pumpkins and trees are fun. A feast for the eyes leads to a more satisfying feast for the child.
Try Breakfast for Lunch
A cold pancake sandwich spread with peanut butter is unique. So is a thermos with hot pancakes and syrup, or a waffle sandwich. Bring a bowl of cereal, and add a thermos of soy or rice milk.
Leftovers Are a Parent's Best Friend
Cold pizza or burritos are a treat. Get a wide-mouth thermos and serve some chili, stew, soup, or spaghetti. How about a thermos of mashed potatoes and gravy to go with that nutloaf sandwich? Many of the wide-mouth thermal containers contain glass and might not be appropriate for the very young or very active child.
Working with the Cafeteria
Have the current menu analyzed. Many times the school or the parents' group will pay to have a consultant do this. This information will give you the facts to start the ball rolling. Focus on health and ethnic foods, as well as vegetarian foods. The USDA mandates that cow's milk be served with public school lunches. But some schools allow juice to be substituted if a note from a physician is brought.
Find Your Common Friends
Vegetarians at your school may be few, but there might be a number of children with lactose intolerance or dairy allergies who want more non-dairy dishes. A family with high cholesterol wants low fat and no- cholesterol dishes. Parents also want dishes that reflect their ethnic heritage. Also, be sure to praise the lunch crew for their efforts. It really is a tough job to make and serve hundreds of lunches in 20 minutes for under a buck fifty! Make suggestions, but keep the tone positive and supportive.
Field Trips
Volunteer to drive and chaperone if at all possible. You may choose to have your child skip some trips. How will your child feel about seeing stuffed dead animals at the natural science museum? Do you really want them to see the joys of factory farming? Or maybe you want them to see what really happens, but it would be wise for you to be there to provide commentary on your ethical concerns.

Are they stopping at the snack bar at the museum? Call ahead and see if they have juice instead of milk, or apples instead of chocolate cake. Pack a snack.
Classroom Nutrition Lessons
Donate, donate, donate. Donate a copy of Leprechaun Cake (published by The Vegetarian Resource Group) and other vegetarian books to the school library. Donate colorful posters for the classroom. Offer to provide copies of I Love Animals and Broccoli Coloring Book and I Love Animals and Broccoli Shopping Basket (also available from VRG).

Plan ahead. March is National Nutrition Month, but materials are ordered in advance. Some teachers must turn in a lesson plan months ahead, or must follow the lesson from central administration. Find out and then intervene. You might be able to contribute to the nutrition education for the whole district. It's amazing how even a minor change like calling it the "soy, rice, and cow's milk" group vs. just the "milk" group makes a difference. It may be too much to hope for to get the topic dropped entirely for a discussion about calcium bioavailability.
Special Education
Be warned. A common modis operandi of special teachers-speech, reading, and math-is to reward children with candy, and lots of it. If your child will be using these services, discuss your dietary rules at the beginning, before any sessions or screenings take place. Ask that the candy be hidden. Stickers, pencils, bookmarks, and other items are better rewards, even if you have to supply them yourself.
Giving School Presentations
Do a food tasting or vegetarian presentation for the classroom. Be sure to get your facts straight. Well meaning does not replace well done. If you are asked a question you are unsure of, say so. Then look it up and get back to them. Unfortunately, as a minority dietary group, you represent all vegetarians; they are waiting for you to slip up. If you are caught in an exaggeration or you present factual errors, this will discredit all you have to say.

You cannot present "everything you always wanted to know about vegetarian diets" in 20 minutes. But you can get their feet wet. A short presentation on whole grains, sprouts, or soy foods can pique interest and not overwhelm. Be very careful with the sensibilities of young children. No one learns when they are scared or defensive.

You never know whom you are influencing. Your child's lunch may plant the seed for a classmate to become vegetarian during high school. Your food demonstration on soy food may help a family with dairy allergies see that there is life without dairy. You may never know how many lives you have touched, but go out and touch them anyway.
---
The Vegetarian Journal published here is not the complete issue, but these are excerpts from the published magazine. Anyone wanting to see everything should subscribe to the magazine.
Converted to HTML by Jeanie Freeman
© 1996- The Vegetarian Resource Group
PO Box 1463, Baltimore, MD 21203
(410) 366-8343 Email: vrg@vrg.org



Last Updated
September 20, 1997

Graphic design by


The contents of this web site, as with all The Vegetarian Resource Group publications, is not intended to provide personal medical advice. Medical advice should be obtained from a qualified health professional.

Any pages on this site may be reproduced for non-commercial use if left intact and with credit given to The Vegetarian Resource Group.

Web site questions or comments? Please email brad@vrg.org.