Vegetarian Journal Mar/Apr 1998
Cobblers, Crisps, and Crunches
By Nancy Berkoff, R.D., Ed.D.
---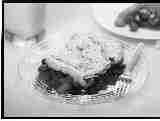 In Mrs. Blackwell's Heart-of-Texas Cookbook (Corona Publishing, 1980), the authors reminisce about the wonderful cobblers created for desserts during the Depression in many a Texas farmhouse. A pie required a delicate crust and served a finite number of people, whereas a cobbler demanded little dexterity (just a fast toss-together of ingredients) and could serve many.
Cobblers are a winning dessert or snack, achieving blue ribbons in the wholesomeness, ease-of-preparation, crowd-pleasing, and not-picky-about-the-ingredients categories. Both cobbler toppings and fillings are reliant only upon the season and what happens to be in the cupboard. It takes very little planning or culinary skill to put together a satisfactory cobbler.
If you ordered a cobbler in the 1800s, you would have received an alcoholic beverage made of wine or sherry blended with orange juice and sugar. The comforting fruit dessert use of the term cobbler seems to have originated in the American West, where the chuckwagon cook created a baked fruit dessert, with a crumbly topping, in a skillet atop an on-the-trail fire. Desserts resembling cobblers are served all over the country, with such interesting names as fruit paradise, cockaigne, pandowdy, slump, and crumble.
In reality, a culinary purist would tell you that crisps, crumbles and cobblers are not interchangeable terms. According to The Chef's Companion (Van Nostrand Reinhold, 1986), a cobbler is a deep-dish fruit pie with a thick top crust of biscuit dough; a crumble is a pudding made of fruit thickened with breadcrumbs, sweetened, and baked; and a crisp is a baked fruit dessert with a crumbled pastry topping. In this article, we will take poetic license and refer to a fruit and grain-topped dessert as any of the above terms.
A traditional recipe for a cobbler called for flour, salt, fat, and water for the crust, and fruit, sugar and butter for the filling. If you are looking for an exact replica of an old-fashioned (translation: high-fat, high-sugar, low-fiber) cobbler, you can replace some of the ingredients listed below with fat, sugar or bleached flour. We think you'll like our updated version, and we know your body will!
Fruit (fresh, dried, canned, or frozen) and grains (oats and whole grain flours) make up the bulk of a cobbler. Traditional cobblers relied heavily on fat (butter or lard) and sugar for flavor, color and texture. Fruit juice, fruit sauces, and fruit or nut butters are the 90s (and the nutritionists') answer to these empty-calorie ingredients. We have replaced fat with apple butter, applesauce, stewed dried fruit, fruit juice concentrate, and pured fruit. If fat is not a concern, nut butters, such as almond butter, can be used. Toppings are designed to be crunchy, chewy, spicy, and complementary to the filling. If you are looking for a " poofier" topping, just use your favorite biscuit recipe; prepare a biscuit topping and dab bits of the topping on top of the uncooked cobbler filling.
Cobbler toppings are a blend of grains, fruit and spices. Rolled oats make a good base, and wheat germ, nut kernels and dried fruit add crunch and texture. Experiment with additions such as shredded carrots or zucchini, other grains such as cooked bulgur or spelt, crumbled cookies (ginger cookies are great!), or cold cereal flakes.
It is true that cobblers make a wonderful dessert, but don't keep the best for the last all the time. Cobblers make a good breakfast (make some extra and reheat with a little soy milk for the optimal comfort food), mid-morning snack or as part of a fast lunch (envision a bowl of lentil-tomato soup and a scoop of triple-apple cobbler). Cobblers served with sliced fresh fruit and a sprinkling of nuts make a good dessert or mini-meal.
Cobbler (or crisp or crumble) fun is in the filling! anything (fruity, that is) goes! You can be a cobbler purist or go wild with flavor combos. The only rule is that the fruit you choose must be able to handle the heat, as the fruit will be cooked. Try an autumn combination of apples and pears, a summer blend of peaches and berries, or a winter creation of dried fruit. If the peach, apricot, pear, apple, plum, berry, or even grape crop has been a bit too bountiful, turn it into a cobbler! Have some canned fruit that stares at you every time you open the pantry? Need to move last summer's frozen fresh fruit out of the freezer? Wondering what to do with those dried nectarines? Cobblers are the answer!
---
Recipes
Cobbler In Paradise
(Serves 8)

Experiment with different types of dried fruit for this cobbler; a serving of this can perk up breakfast or snack-time.


2 1/2 cups "exotic" dried fruit (nectarines, papaya, berries, etc.)
1 carrot, peeled and grated
1/2 cup peeled, cored, and grated fresh apples
1 small lemon, sliced thin
Water (to cover fruit for soaking)
1 cup diced, drained, canned pineapple
3/4 cup milk (soy, rice or grain)
33/4 cups unbleached white flour
2 teaspoons baking powder
2 small bananas, peeled and sliced (use pineapple juice to prevent browning).

Soak dried fruit in water for at least one hour. Drain and save liquid.
Preheat oven to 400 degrees. Grease 9" x 13" pan. Combine fruit, carrots, apples, and lemon in a large saucepan with 3/4 cup of saved liquid and simmer for one hour (until fruit is soft); add more saved liquid, if necessary. Cool to room temperature and spread in greased pan.

To make biscuit dough, squeeze pineapple until as dry as possible. Discard juice. Mix pineapple and milk together in a large bowl. Add flour and baking powder and mix well.

To assemble cobbler, arrange banana slices on top of fruit and then dot fruit and bananas with biscuit dough (drop dough in tablespoon amounts) until covered. Bake for 25 minutes or until biscuit topping is browned.
Serve with banana, apple or carrot chips. Tastes great served warm or cold.

Total calories per serving: 386
Fat: 2 grams


---
Fresh Fruit Crumble
(Serves 4)


Take advantage of the seasons for this quick-and-delicious dessert.



Topping from Five Apple Crumble (below)
3 cups peeled and diced fresh fruit (try bananas, berries, apricots, peaches, persimmons, etc.)
1/4 cup peeled and diced fresh orange
1/8 cup raisins (or dried berries)
1 teaspoon fresh orange zest
1 Tablespoon fresh lemon juice

Preheat oven to 375 degrees. Grease 9" x 13" pan and press topping into bottom of pan.

Combine all other ingredients in large saucepan; heat over medium heat, stirring constantly, until fruit is soft and mixture is slightly thickened. If more sweetness is desired, add 2 teaspoons of orange juice.

Spread fruit over topping and bake for 30 minutes or until bubbly. Garnish with diced dried fruit, sliced fresh fruit or sliced almonds.

Total calories per serving: 263
Fat: 2 grams


---
Peach-Cherry Crumble
(Serves 10)

This is a great make-ahead recipe. Double the recipe, serve one and freeze the other. Apricots and berries can also be used.



2 1/2 cups unbleached flour
1 cup apple butter or peach preserves
1/4 cup applesauce
Two 16-ounce cans sour cherries, drained (can use frozen, thawed cherries)
1/2 cup diced cooked peaches (can use canned, frozen or freshly cooked)

Preheat oven to 375 degrees. In a large bowl, combine flour, apple butter and sauce until crumbly. Put aside 1/2 cup of mixture and press remainder into a greased 9" x 13" pan.

Mix cherries and peaches together and distribute over crust. Sprinkle remaining flour mixture over fruit. Bake for 30 minutes until bubbly and golden brown.
Serve warm or cold with sliced fresh fruit.

Total calories per serving: 249
Fat: 1 gram


---
Five Apple Crumble
(Serves 4 large appetites)


This recipe is a perfect use for all types of apples; serve as a dessert or as a side dish with a hearty soup.



1 1/2 cup diced dried apples
1/4 cup apple juice
1 1/8 cup applesauce
1 cup peeled, cored, and diced fresh apples
1 teaspoon ground cinnamon
1/8 teaspoon ground nutmeg
1/2 cup apple butter
1/8 cup applesauce
3/4 cup rolled oats
1/8 cup wheat germ
1/2 teaspoon ground cinnamon
1/8 teaspoon ground ginger

Preheat oven to 375 degrees. Grease a 9" x 13" pan (or use a non-stick pan).

In a large saucepan, combine dried apples, juice, applesauce, fresh apples, cinnamon, and nutmeg and simmer until dried and fresh apples are tender. When tender, spread evenly in the pan.

In a small saucepan, heat apple butter and applesauce over low heat until well combined. Add rolled oats, wheat germ, cinnamon, and ginger. Remove from heat and cool to room temperature. Spread over apples.

Bake for 45 minutes or until bubbly and golden. Garnish with raisins or chopped dried fruit.

Total calories per serving: 200
Fat: 2 grams


---
Gingered Apples
(Serves 4)

Ginger adds some "heat" and spark to this lovely autumn-inspired recipe.



2 pounds fresh apples (or pears), peeled, cored and thinly sliced
1/8 cup apple cider
1/8 cup apple butter
3 Tablespoons preserved ginger
1/2 cup rolled oats
1/4 cup applesauce
1/4 cup crumbled ginger cookies
1/8 teaspoon ground ginger
1/16 teaspoon cinnamon
1/16 teaspoon nutmeg

Preheat oven to 375 degrees. Place sliced apples in a greased 9" x 13" pan. Add cider, apple butter and preserved ginger and toss gently until ingredients are combined.

In a small bowl, mix oats, applesauce, cookies, ginger, cinnamon, and nutmeg until well combined. Spread oat mixture over apples and press down so that mixture is not loose.

Bake for 45 minutes, until apples are soft and topping is crisp. Serve warm with an accompaniment of spiced tea or cider.

Total calories per serving: 246
Fat: 2 grams

---
Quick Berry Crunch
(Serves 6)

Not much time to bake? No one will know with this recipe!



1/2 cup berry juice (try strawberry, cherry or blueberry)
1 1/2 Tablespoons quick-cooking tapioca
1/3 cup apple butter
1/8 cup fruit jam
1 cup unbleached flour
1 cup quick-cooking oatmeal
1/4 cup toasted wheat germ
1/4 teaspoon double-acting baking powder
1/4 teaspoon baking soda
3 cups berries

Preheat oven to 325 degrees. Mix berry juice and tapioca in a non-reactive bowl and let stand for 15 minutes.

In a small saucepan, heat apple butter and jam over low flame until combined. Remove from heat. Mix flour, oats, wheat germ, powder, and soda into this and stir until well combined.

Place half the oat mixture into a greased 9" x 9" pan, scatter berries over the oats, spread tapioca mixture over the berries, and complete with remaining oats- mixture. Bake for 30 minutes or until topping is brown.
Try this for dessert or breakfast, served with fresh berries.

Total calories per serving: 251
Fat: 2 grams


---
Excerpts from the Mar/Apr Issue:

---
The Vegetarian Journal published here is not the complete issue, but these are excerpts from the published magazine. Anyone wanting to see everything should subscribe to the magazine.
This article was converted to HTML by Jeanie Freeman
© 1996- The Vegetarian Resource Group
PO Box 1463, Baltimore, MD 21203
(410) 366-8343 Email: vrg@vrg.org



Last Updated
March 1, 1999

Graphic design by


The contents of this web site, as with all The Vegetarian Resource Group publications, are not intended to provide personal medical advice. Medical advice should be obtained from a qualified health professional.

Any pages on this site may be reproduced for non-commercial use if left intact and with credit given to The Vegetarian Resource Group.

Web site questions or comments? Please email brad@vrg.org.