Posted on October 22, 2009 by The VRG Blog Editor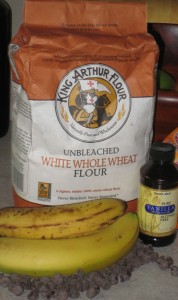 Julia Driggers, R.D., shares a recipe for vegan chocolate chip banana bread:
Yummy Chocolate Chip Banana Bread
(Serves 12)
Ingredients:
2 cups Whole Wheat Flour
1 tsp Baking Soda
¼ tsp Salt
½ cup Vegan Butter (Earth Balance recommended)
¾ cup Brown Sugar (Use your favorite vegan variety)
2-3 Medium to Large Ripe Bananas, Mashed
1 tsp Vanilla
2 Egg Equivalents of Egg Replacer
¾ cups Vanilla Almond Milk (or other milk alternative)
1 cup Vegan Chocolate Chips
Directions:
Preheat oven to 350 degrees. In large mixing
bowl combine flour, baking soda, and salt. In separate bowl cream butter and fold in brown sugar. Stir in mashed bananas, vanilla, and egg substitute. Pour banana mixture into flour mixture and stir. Add Almond Milk and chocolate chips and mix. Pour into a 9 inch loaf pan and bake 40-50 minutes or until center of bread is cooked. Enjoy!
| | |
| --- | --- |
| Total Calories Per Serving: | 260 |
| Total Fat as % of Daily Value: | 17% |
| Protein: | 4 gm |
| Fat: | 11gm |
| Carbohydrates: | 39gm |
| Calcium: | 25mg |
| Iron: | 2mg |
| Sodium: | 249 |
| Dietary Fiber: | 4gm |