Posted on August 10, 2010 by The VRG Blog Editor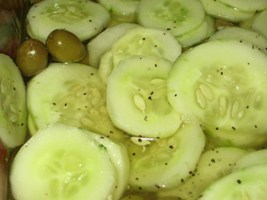 Julia Driggers, R.D., shares a recipe for cucumber salad.
Serves: 4
Ingredients
2 Large Cucumbers – Peeled and Sliced Thin
1 Small Onion- Sliced
¾ Cup Water
¼ Cup and 2 TBS Apple Cider Vinegar
¼ cup and 2 TBS Vegan White Sugar
¼ TSP Salt
¼ TSP Pepper
½ cup Green Olives (Optional)
Directions
Peel and slice cucumber and onion and place in medium container. Pour in water, apple cider vinegar, sugar, salt, and pepper. Add olives if desired. Mix. Set aside in refrigerator for 1 hour to marinate.
Serve along side your favorite summer sandwich or as a dish at your neighborhood cookout!
Nutrition Information
Calories: 117 kcal
Fat: 2gm
Protein: 1gm
Carbohydrate: 24gm
Fiber: 1 gm
Calcium: 35mg
Iron: 1mg