Posted on November 22, 2010 by The VRG Blog Editor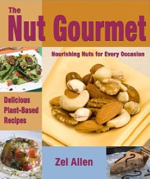 Thanks to Zel and Reuben Allen for sharing this recipe with us. It's from Zel Allen's book, The Nut Gourmet, which can be ordered for $25 including postage and handling in the US (foreign postage possible as well at additional cost) by calling us (VRG) at 410-366-8343, 9-5, M-F.
With Thanksgiving only one month away, we began to think about our family celebration and wanted to share a treasured vegan recipe that has become our family's Thanksgiving main dish. It's a stunning centerpiece on the holiday table and promises irresistible flavors to match its beauty. We want to wish our vegan community a delicious and fulfilling Thanksgiving holiday.
Health and Joy,
Zel and Reuben Allen
Vegetarians in Paradise
http://www.vegparadise.com
The Torte makes the ideal vegan Thanksgiving dish with its varied textures and savory flavors from the combination of wild rice, mushrooms, nuts, and sage. Served with a robust Mushroom Sauce on the side, the Torte makes a very hearty main dish and goes well with all the typical side dishes like cranberry sauce, sweet potatoes, chestnut stuffing, and a few veggie combinations. For dessert, its pumpkin and apple pies, of course. To ease the feast-day preparations, we usually make the Torte the day before, store it in the fridge, and reheat it at 350 degrees for 20 to 25 minutes before serving.
One little hint, the Torte preparation comes together more quickly if you cook the wild rice before beginning the torte or even the day before.
THANKSGIVING TORTE
Yield: 6 to 8 servings
2 cups water
2/3 cups wild rice
3/4 teaspoon salt
3/4 pound red or white rose potatoes, unpeeled, scrubbed, and cut into
1-inch cubes
1 cup water
1/8 teaspoon salt (optional)
1/2 cup coarsely chopped pecans
1/4 cup coarsely chopped walnuts
1 (14-ounce) package vegan ground sausage
3/4 pound portobello mushrooms, chopped (about 4 large mushrooms)
1 large onion, diced
1/3 cup water
2 tablespoons extra virgin olive oil
2 teaspoons poultry seasoning
1/4 teaspoon freshly ground black pepper
1/2 teaspoon hickory liquid smoke
1 1/4 teaspoons salt or to taste
2 ripe tomatoes, sliced
Mushroom Sauce
1/2 pound sliced button mushrooms
1 3/4 cups plus 3 tablespoons water
1/4 soy sauce
1/4 cup dry red wine
2 tablespoons lemon juice
3 tablespoons cornstarch
3 tablespoons water
1. TO MAKE THE TORTE, lightly oil a 9-inch springform pan, line the base with parchment paper (for easier cleanup), and set it aside. Combine the 2 cups water, wild rice, and salt in a 2-quart saucepan. Cover and bring to a boil over high heat. Turn the heat down to medium-low and steam for 45 to 50 minutes, or until the rice is tender. Drain off excess liquid and set the rice aside.
2. Combine the potato cubes, 1 cup water, and salt in a 2-quart saucepan. Cover, and bring to a boil over high heat. Turn the heat down to medium and simmer for 5 to 7 minutes, or until the potatoes are fork tender. Using a slotted spoon, transfer the potatoes to a medium bowl, mash them, and set them aside.
3. Preheat the oven to 375 degrees. Toast the pecans and walnuts in a 10-inch skillet over high heat, stirring constantly for 1 to 2 minutes.
Immediately transfer them to a dish to cool.
4. Combine the vegan sausage, mushrooms, onion, the 1/3 cup water, olive oil, poultry seasoning, and pepper in a large, deep skillet. Cook over high for 5 to 7 minutes, or until the onion is transparent, stirring frequently with a wooden spoon or paddle to break up the sausage chunks. Drain and reserve any excess liquid. Add the salt and hickory liquid smoke to the sausage mixture and mix well.
5. Add the mashed potatoes to the skillet along with the toasted nuts and cooked wild rice. Mix well to combine the ingredients thoroughly. Adjust seasonings if needed.
6. Press the mixture firmly into the prepared springform pan, and attractively arrange the tomato slices over the top, covering most of the
surface. Bake uncovered for 1 hour. Allow the torte to stand for 15 to 20 minutes before removing from the pan.
7. TO MAKE THE MUSHROOM SAUCE, prepare it while the torte is baking. Combine the mushrooms, water, soy sauce, red wine, and lemon juice in a 2-quart saucepan and bring to a boil. Turn heat down slightly and simmer for 5 minutes.
8. Combine the cornstarch and water in a small bowl and stir with a spoon to make a runny paste. Add the paste to the bubbling sauce, a little at a time, stirring constantly, for about 1 minute, until the sauce has thickened to the desired consistency.