Posted on March 30, 2011 by The VRG Blog Editor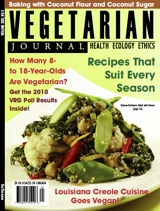 To subscribe to the Vegetarian Journal and receive the complete print version, click here.
Features
From Veal to Vegan, Creole Style
Laissez les bon temps rouler with Meryl Austin Cryer's Louisiana recipes.
How Many Youth in the U.S. Are Vegetarian?
The latest VRG-Harris Poll finds out more about 8- to 18-year-olds.
Secrets of the Seasonal Vegan
Debra Daniels-Zeller creates adaptable dishes to use year-round.
L-Cysteine in McDonald's Pies
Jeanne Yacoubou, MS, learns that this ingredient is animal-derived.
Making The Cover
Linda Long brings vegan food and photography to an NYC high school.
More Research Findings
Get updates on vegan chondroitin, American Airlines' vegetarian
options, and Blind Faith Café's cheeses from Jeanne Yacoubou, MS.
Cooking with Coconut Flour and Sugar
Chef Nancy Berkoff gives a crash course on these baking ingredients.
Departments
Vegan Cooking Tips
Very Berry Cuisine, by Chef Nancy Berkoff
Notes from the VRG Scientific Department
Vegetarian Action
Buykind.com Promotes Vegan Food and Products, by Erin Smith
Back Cover
Updated Guide to Food Ingredients Now Available
and Want to Volunteer or Intern with VRG?
Thanks to Celina Chung for her help in converting these articles to HTML!