Posted on March 02, 2012 by The VRG Blog Editor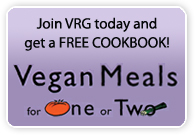 Join VRG with $25 via our donation form, and receive the Vegetarian Journal for one year AND a copy of Vegan Meals for One or Two: Your Own Personal Recipes!
Each recipe in Vegan Meals for One or Two by Chef Nancy Berkoff, EdD, RD, is written to serve one or two people. We've heard the "But I'm the only one in my family who eats vegan meals" and the "I'm vegan, but it's so hard to cook for one" excuses. Now you have no reason to eat unhealthfully!
Table of Contents
Chapter 1: It's All About You!
Chapter 2: Meal Planning and Shopping
Chapter 3: Breakfast
Chapter 4: One-Pot Wonders
Chapter 5: Freeze or Refrigerate Now, Eat Later
Chapter 6: Grab-and-Go
Chapter 7: Desserts and Snacks
Chapter 8: Every Day and Special Day Cooking
Glossary
Resources from The Vegetarian Resource Group
Sample Recipe
Is it Tofu? It is Tempeh? It's Garlic, For Sure
(makes 2 hearty servings)
This dish is guaranteed to keep vampires away. Use this as a sandwich stuffing (good hot or cold) or serve
over cooked noodles (how about spinach or carrot pasta), steamed rice, or over a baked potato.
2 Tablespoons olive oil (any vegetable oil is okay)
2 Tablespoons minced garlic cloves
3 Tablespoons flour
1 cup soymilk
1/2 teaspoon black pepper
3/4 cup cubed firm tofu or tempeh
In a medium-sized frying pan, heat oil. Add garlic and sauté until garlic is lightly browned. Remove from heat and whisk in flour to make a paste.
Heat soymilk in a microwave or in a small pot until bubbly. Slowly add paste to soymilk, whisking, to form a smooth sauce, over low heat, approximately 5 minutes. Add tofu or tempeh and allow dish to cook for 3-4 minutes, until heated.
Note: You can try flavored tofu or tempeh, such as barbecue, smoked, or Cajun to add even more flavor.
Total calories per serving using Tofu: 353
Total Fat as % of Daily Value: 37%
Fat: 24 grams
Protein: 20 grams
Carbohydrates: 18 grams
Iron: 12 mg
Calcium: 177 mg
Dietary Fiber: 4 grams
Sodium: 30 mg