Posted on January 14, 2013 by The VRG Blog Editor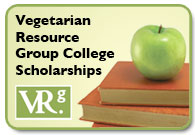 Each year, VRG awards $10,000 in college scholarship money to two high school seniors who have promoted vegetarianism in their schools/communities ($5,000 to each). The deadline – February 20 – is right around the corner, so if you want to apply, or know someone who should apply, click here for more information.
VRG also offers The Eleanor Wolff Scholarship which is a paid summer internship ($2,500 plus $1,000 toward housing) at VRG's Baltimore office. Here's what our interns have had to say about their experiences: http://www.vrg.org/student.
Good luck!