Posted on February 25, 2013 by The VRG Blog Editor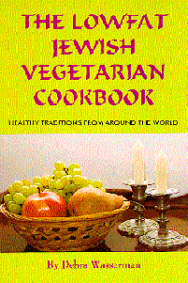 Passover is coming up in late March this year, and we've got lots of great vegan recipes to share with your friends and family. Below are a few recipes to get you started, and we have lots more in these books:
If you would prefer to order over the phone, you can call us at (410) 366-8343, Monday-Friday, 9-5.
Matzo Meal Pancakes
From No Cholesterol Passover Recipes by Debra Wasserman
Makes 8 small pancakes
3 small ripe bananas, peeled
½ cup matzo meal
¾ cup water
2 teaspoons oil
Mash bananas in a small bowl. Add matzo meal and water. Mix well. Heat oil in a frying pan over medium heat. Form 8 small pancakes in heated pan and fry for about 10 minutes until brown on both sides.
Pear and Apple Slaw
From Vegan Passover Recipes by Nancy Berkoff
(Serves 5-6)
1 pound (about 3 cups) fresh pears
½ cup (about 4 ounces) green or tart apple
2 Tablespoons lemon juice
1 cup finely shredded green cabbage
1 cup finely shredded red cabbage
2 Tablespoons oil
1 Tablespoon vinegar
½ teaspoon black pepper
Wash and dice pears and apples (don't peel) and toss with lemon juice. Add green and red cabbage and toss. In a cup, mix oil, vinegar and pepper until combined. Toss with vegetables until well coated. Chill for at least 30 minutes before serving.
Note: Make a double batch of this recipe, as the flavor gets even better the second day!
Syrian-Style Okra with Dried Fruit
From The Lowfat Jewish Vegetarian Cookbook by Debra Wasserman
(Serves 4)
½ pound okra, chopped
½ small onion, finely chopped
1 teaspoon oil
1 Tablespoon water
1½ cups dried fruit (about 8 ounces prunes, apricots, and/or raisins, etc.)
½ cup prune juice
½ cup tomato juice
¼ lemon, minced (rind and fruit)
Stir-fry okra and onion with oil and water in a large frying pan for 5 minutes over medium heat. Add dried fruit, juices, and lemon. Simmer 15 minutes, stirring often. Serve warm or chilled.
Oh, and don't forget… Star K (orthodox) said quinoa can be used if certified Kosher for Passover. The OU on their website says it can be a local decision, so ask your rabbi. You easily can make sweet or spicy dishes with this grain or simply use it instead of rice as a base for vegetable-based dishes you are preparing.