Posted on September 10, 2013 by The VRG Blog Editor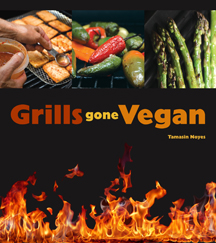 Reviewed by Debra Wasserman
What I like about this book is that instructions are given for both outdoor and indoor grills. Apartment dwellers can enjoy grilled vegan cuisine, too!
Chapter 1 offers helpful information for those that are new to grilling. The last chapter of the book includes recipes for marinades and other condiments.
Next, dive into all the wonderful recipes. Starters include Roasted Garlic, Cajun Mushrooms, Stuffed Jalapeño Chiles, and Grilled Baby Artichokes. You can prepare side dishes including Mexican Slaw, Ethiopian Bean Skillet, or Asian Sesame Noodles.
Be sure to move on to Soups and Sandwiches including Roasted Corn Chowder and Teriyaki Portobello Burgers. Some main dishes offered are Red-Eye Tofu Steaks, Seitan Ribz, Quinoa-Stuffed Poblanos, Broccoli and Cheeze Calzones, and Porcini and Sausage Paella.
Finally, don't forget to prepare dessert over a grill. Enjoy Maple-Glazed Grapefruit or Pineapple and Pomegranate Couscous Cakes.
Grills Gone Vegan (ISBN 978-1-57067-290-3) is a 188-page book. It is published by Book Publishing Company. You can purchase this book from our online catalog here.