Posted on November 13, 2013 by The VRG Blog Editor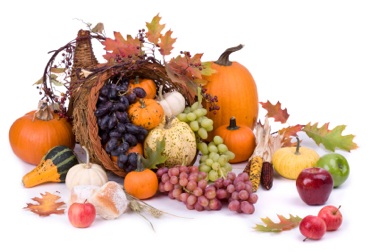 Looking for vegan Thanksgiving recipes? We've got you covered: http://www.vrg.org/recipes/vegan_thanksgiving.php
If you're in Baltimore, come join us and Vegan Drinks at our 32nd Annual Vegan Pre-Thanksgiving Potluck Dinner!
5:00 p.m., Sunday November 24
North Baltimore Mennonite Church
4615 Roland Avenue
Baltimore, MD 21210
Vegetarians, vegans, and the merely curious are invited! $4 per person, children under age 18 are free. RSVP is not necessary! Please bring a vegan dish (and serving utensil) that serves four as a contribution from each member of your party. Write ingredients of the dish on an index card to accommodate special diets. Guests are encouraged to bring reusable dishes and utensils to reduce waste. A vegetarian canned food drive is taking place the same night. Consider donating!
Volunteers needed on the day of the event for set-up and clean-up. To volunteer or for more information send us an email at vrg@vrg.org or call us at (410) 366-8343.