Posted on November 19, 2015 by The VRG Blog Editor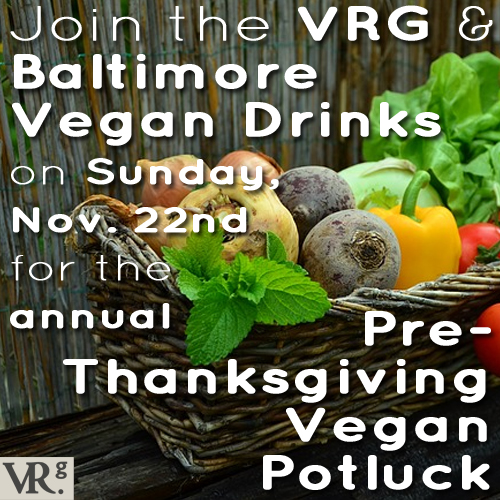 With help from Vegan Drinks Baltimore, The Vegetarian Resource Group is hosting its 34th Annual Pre-Thanksgiving Vegan Potluck Dinner, showing appreciation for turkeys by not eating them! Join us in sharing a variety of festive, delicious, vegan dishes.
Adult admission is $4 and children are free. Please bring a vegan dish – free of meat, fish, fowl, milk, cheese, butter, eggs, honey, or any other animal-derived ingredient – that serves 4 per adult attending (ex. 2 adults, your dish should serve 8 people).
The event will take place Sunday November 22nd at 5:00 PM in the North Baltimore Mennonite Church, located at 4615 Roland Avenue, Baltimore, MD 21210. If you have any questions, please call The Vegetarian Resource Group (410) 366-8343 Monday-Friday 9 am to 5 pm. You can also email us questions at vrg@vrg.org.