Posted on January 26, 2016 by The VRG Blog Editor
The Vegetarian Resource Group maintains an online Guide to Vegan/Vegetarian Restaurants in the USA and Canada. Below are some recent additions. The entire guide can be found here: http://www.vrg.org/restaurant/index.php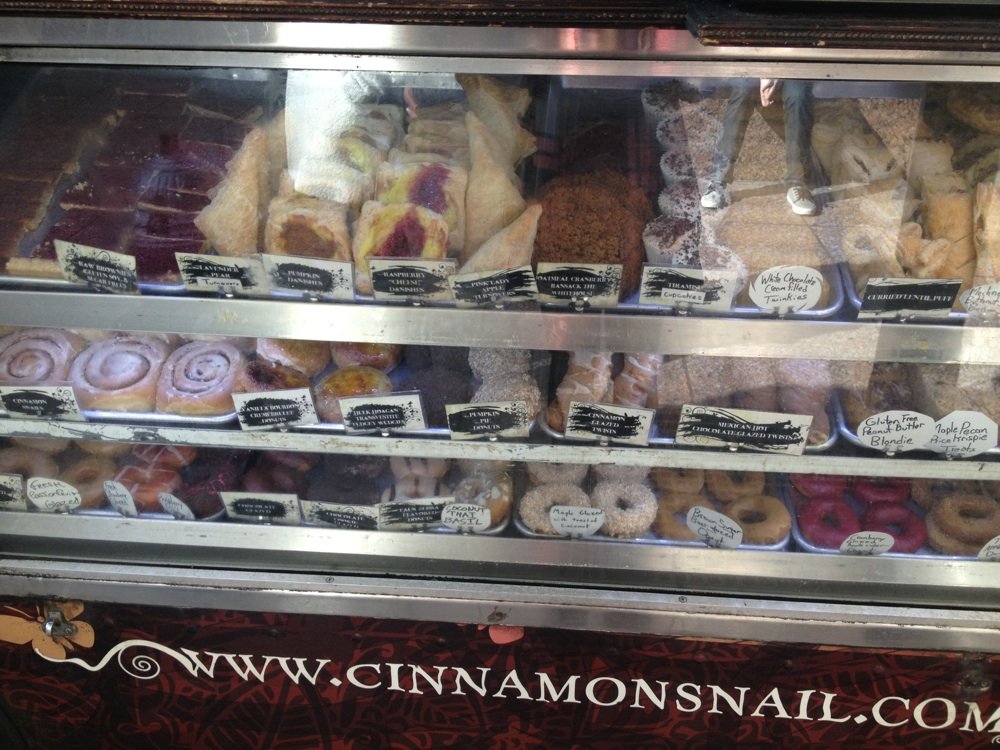 B52 Vegan Bakery & Café
5202 Butler St.
Pittsburgh, PA 15201
B52 Café focuses on traditional American fare and savory pastries for breakfast and Middle Eastern and Mediterranean foods for lunch and dinner. Though most of the cuisine is Mediterranean, vegan cinnamon rolls, brownies, cookies, truffles, and more can still be enjoyed! Along with vegan staples such as tofu scramble and buckwheat pancakes.
Be Well Kitchen
4th Street Market
201 E. 4th St.
Santa Ana, CA 92701
After a consultation, the chef customized a unique meal plan for your needs. Programs range from a full day of three meals and a snack to week-long meals. Meals are available for pickup or delivery. Be Well Kitchen is devoted to flavorful and convenient healthy living.
The Cinnamon Snail
The Pennsy
2 Pennsylvania Plaza
New York, NY 10021
The Cinnamon Snail vegan food truck that serves mostly organic food, prepared without processed or artificial ingredients now has a store front location in Penn Station. Try their Thai BBQ Tempeh with Pickled Red Onions and Thai Basil, Arugula, Smoked Chili Roasted Peanuts and Sriracha Mayonnaise on Grilled Spelt Bread, their famous Beastmode Burger Deluxe, Ancho Chili Seitan Burger Grilled in Maple Bourbon BBQ Sauce with Jalapeno Max & Cheese, Arugula Smoked Chili Coconut Bacon and Chipotle Mayo on a Grilled Pretzel Bun, and a Lemongrass 5 Spice Seitan with Curried Cashews, Arugula, Sichuan Chili Sauce and Wasabi Mayonnaise on a Grilled Baguette. They also offer vegan desserts.
Dixie Dharma At Market On South
2603 E South St.
Orlando, FL 32803
Traditional southern dishes take on a plant-based twist at this market location. Dixie Dharma's BBQ is known for its immaculate similarity to authentic pulled pork. Indulge in a "sloppy joe" or "baked mac 'n cheese" at this hip location in central Florida.
Harvest Beat
1711 N 45th St.
Seattle, WA 98103
Harvest Beat is a restaurant on a mission. By creating prix-fixe menus based on the current availability of ingredients from local farmers and from their own gardens, which reduces the need for food storage and ultimately, food waste, and by composting all food scraps, they are keeping their carbon footprint to a minimum. Naturally, as the ingredients are always changing, so does the menu. This dish, served as the 4th course on a December menu, should give you an idea of the kind of fare served at Harvest Beat: eggplant roulade, jester squash mousse, grilled whiskey poached kohlrabi, Romanesco spears, micro arugula, and autumn olive chutney. There is also a limited take out lunch menu available offering soup and a sandwich wrap.
Kindred
1503 30th St.
San Diego, CA 92102
Located in South Park, Kindred boasts a wide selection of vegan cocktails. The menu features a number of classic dishes made vegan. Snack selections include Fried Pickles and Seitan Skewers. Main dishes range from the Memphis BBQ Jackfruit Sandwich to the Beet Risotto. Be sure to check out the weekend brunch menu, too. They are open late.
Nutritious You
6583 Midnight Pass Rd.
Siesta Key, FL 34242
The menu at Nutritious You includes a wide variety of snacks and cuisine with a health-conscious twist. Restaurant goers may recognize their snacks from various health food stores. The restaurant itself includes a wide variety of items including desserts, spreads, and take home items. Menu staples include options like Vegan Pizza or Falafel.
Revolution Juice
150 Huntington Ave.
Boston, MA 02115
Revolution Juice's specialty is serving plant-based drinks to promote a nutritious and environmentally-friendly diet. Try their Carrot Ginger Curry, Vanilla Date-orade, or their Ginger Juice Shot from an expansive menu of juices, juice shots, smoothies, sorbets, coffees, teas, soups, snacks, and more at this juice bar which is located right between Newton and Belvidere Street.
Root
223 W Walnut St.
Lancaster, PA 17602
Root is the perfect vegan restaurant/bar to visit if you are in need of good vegan food and/or drinks! They offer a wide variety of specialty vegan foods including mushroom sliders, spinach dip, pizza, and Caesar salad! These typically non-vegan dishes are made with tofu, vegan cheeses, and mushrooms, and are much more delicious as a result. Stop in and enjoy a nice meal and vegan drinks!
Valhalla Bakery
2603 E South St.
Orlando, FL 32803
Valhalla Bakery is the perfect place to go to satisfy your vegan sweet-tooth craving. The cozy bakery is known for its Nanaimo bars, cupcakes, and artfully presented custom-order cakes that are suitable for any occasion from a birthday party to a wedding. Their ever-changing menu is also filled with a selection of pies, cookies, muffins, pretzels, tarts, buns, doughnuts, and even some gluten-free baked goods.
VeganBurg
1466 Haight St.
San Francisco, CA 94117
VeganBurg's specialty is making completely vegan burgers. With the aim to promote an environmentally sustainable and nutritious diet, VeganBurg's menu is full of options such as the Smoky BBQ (a mushroom burger high in beta-carotene) or the Tangy Tartar (a crunchy alfalfa burger with vegan tartar sauce). VeganBurg is not limited to burgers. Their sides include their Seaweed Fries and Handmade Spinach Pops, and they have a selection of vegan sweets. VeganBurg also has a Kiddie Meal for younger ones.
Vegebitez
9-2460 Neyagawa Blvd.
Oakville, ON L6H 7P4 Canada
Enjoy a wide range of fresh juices, vegan milk shakes, and more. For a late breakfast meal (served all day), you can sample muffins, parfaits, chickpea waffles, and scrambled tofu. For lunch or dinner try a wide range of salads, sides, and appetizers along with different types of burgers and sandwiches.