Posted on February 24, 2016 by The VRG Blog Editor
By Samantha Gendler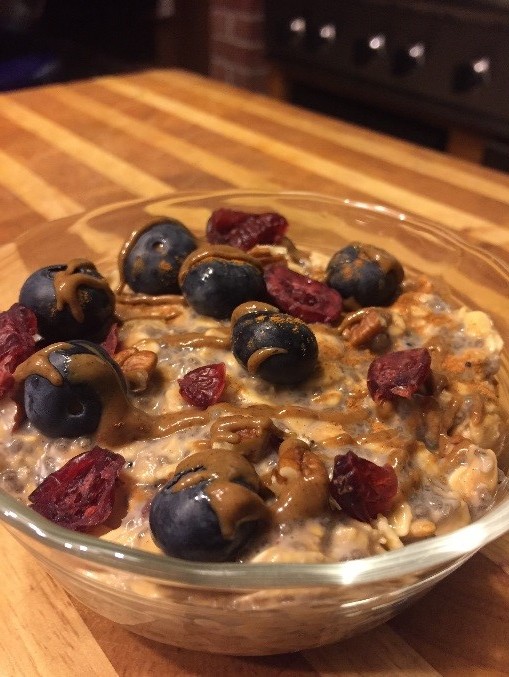 I have been enjoying morning smoothies for years. To me, they are the perfect breakfast: they are easy to make the night before, nutritious, filling, and the possibilities are endless! But this winter, it's been so cold, and the thought of chugging down my usual frosty treat when it's 12 degrees on my morning commute has not been appealing. I've found myself trying to "get it over with," which is not how one should feel about breakfast! The most important meal of the day deserves to be savored.
So, I set out to try a new breakfast that would meet my same criteria but have a warming sensation, instead of a frostbite-inducing one. It had to be something I can prepare the night before (I'm already waking up at 5:15 as it is!). It must be travel-friendly, healthy, filling, and of course — vegan!
There are several recipes for overnight oats floating around the internet, and so I decided to try a vegan version using some of my favorite ingredients.
Overnight oats is like oatmeal, but forget that pre-packaged flavored stuff that can be loaded with sugar! Instead, use regular plain rolled oats. You can manage the sweetness with your toppings and get as creative as you want. As long as you keep the ratio to 1/2 cup rolled oats and 1/2 cup vegan milk of your choice, the rest is up to you.
Here is what I used for my favorite version yet:
1/2 cup rolled oats
1/2 cup vegan milk (I used the Unsweetened Almond & Cashew blend from Almond Breeze).
1/2 Tbs all-natural maple syrup (adjust if you like it more or less sweet)
1 tsp vanilla (I am usually generous in this department!)
1/2 Tbs chopped nuts (I used pecans today – any nut is fine.)
1 Tbs chia seeds
1/2 Tbs dried unsweetened cranberries (raisins work well, too)
sprinkle of cinnamon
Stir all ingredients together and cover overnight in the fridge. Enjoy in the morning. That's really it!
Because I eat them once I get to work, I've purchased a ceramic travel mug with a lid similar to this one, which serves as the soaking and heating container.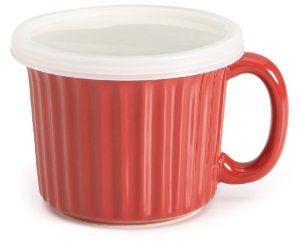 A lot of people enjoy overnight oats cold, but as I want something warming, I just take them out of the fridge after roughly 8 hours, give it a stir, and pop in the microwave for about a minute. When I'm feeling fancy, I drizzle the whole thing with nut butter. My favorite nut butters for this are from JEM Raw Organics. They are extremely creamy, not chunky, and don't require being mixed beforehand, like some other butters in which the nuts and oil separate. In addition to using raw organic nuts, JEM avoids white sugar, opting for raw coconut sugar instead. The Cashew Cardamom flavor is my favorite to drizzle on this version of overnight oats; it gives the whole thing an exotic flair. The Hazelnut Raw Cacao would make a fantastic topping too, if you like an indulgent bit of chocolate-y flavor with your breakfast.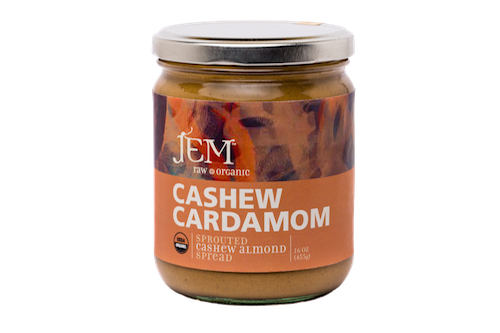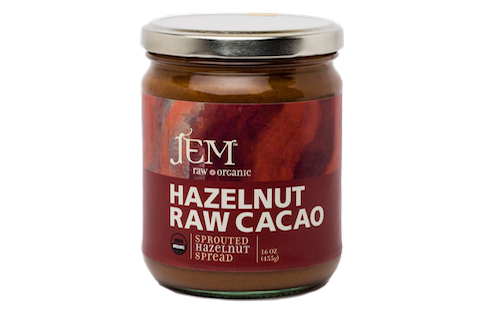 If I have fresh fruit on hand, I top with blueberries, blackberries, or sliced banana. When I heated this up at work last week, the smell permeated the office and someone asked "Who is baking cookies?" That's how heavenly it smells! It is warm, filling, and stick-to-your ribs hearty. Give overnight oats a try and let us know what topping combinations you enjoy.
Here are some other topping combination suggestions:
-almonds, dried apricots, shredded unsweetened coconut
-banana, walnut, cinnamon
-coconut milk, cashew, dried papaya
-lemon zest, fresh blueberries
-vegan chocolate chips, dried cherries
-pumpkin seeds, nutmeg, ginger, cloves
-peanuts, strawberry jam
-raisin, cinnamon, pecan
Nutritional Analysis for Recipe Above:
Calories: 344
Total Fat: 12 grams
Carbs: 50 grams
Sodium: 91 mg
Protein: 10 grams
Fiber: 14 grams