Posted on March 30, 2016 by The VRG Blog Editor
Are You Looking for Vegan Passover Recipes? The Vegetarian Resource Group has published 3 vegan cookbooks that offer vegan Passover recipes: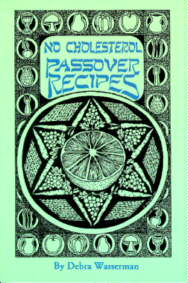 No Cholesterol Passover Recipes, by Debra Wasserman, features 100 vegan recipes that are easy to prepare. Some of the dishes include Matzo Meal Pancakes, Mushroom Potato Soup, Fresh Tomato Soup, Adele's Eggplant Caviar, Chopped "Liver" Spread, Sweet Potato Kugel, Nut "Cheese" Surprise, Layered Vegetable Casserole, Indian-Style Potato Dish, Stuffed Cabbage, Fruit-Nut Chews, and Festive Macaroons.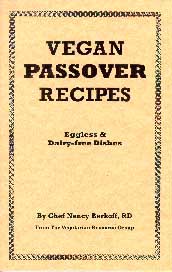 Vegan Passover Recipes, by Chef Nancy Berkoff, RD includes recipes for French Onion Soup, Pear and Apple Slaw, Eggplant and Almond Sauce, Minted Carrots with Chilies, Coconut Curry over Greens, Spinach and Okra Stew, Cinnamon Matzo Balls, and A.M. Crunchies.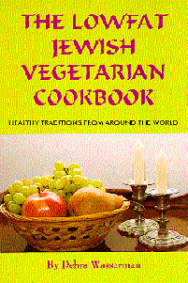 The Lowfat Jewish Vegetarian Cookbook, by Debra Wasserman, features 150 lowfat vegan recipes from around the world. Thirty-three of the recipes are appropriate for Passover including Moroccan Beet Greens Salad, Turkish Mandarin Salad, Passover Kishke, Russian Potato and Mushroom Croquettes, Italian Sautéed Chicory, Syrian-Style Okra with Dried Fruit, Cold Cherry Soup, Romanian Kohlrabi Soup, Fruit Compote, and more.
You can purchase these books through The Vegetarian Resource Group Book Catalog:
http://www.vrg.org/catalog/