Posted on July 29, 2016 by The VRG Blog Editor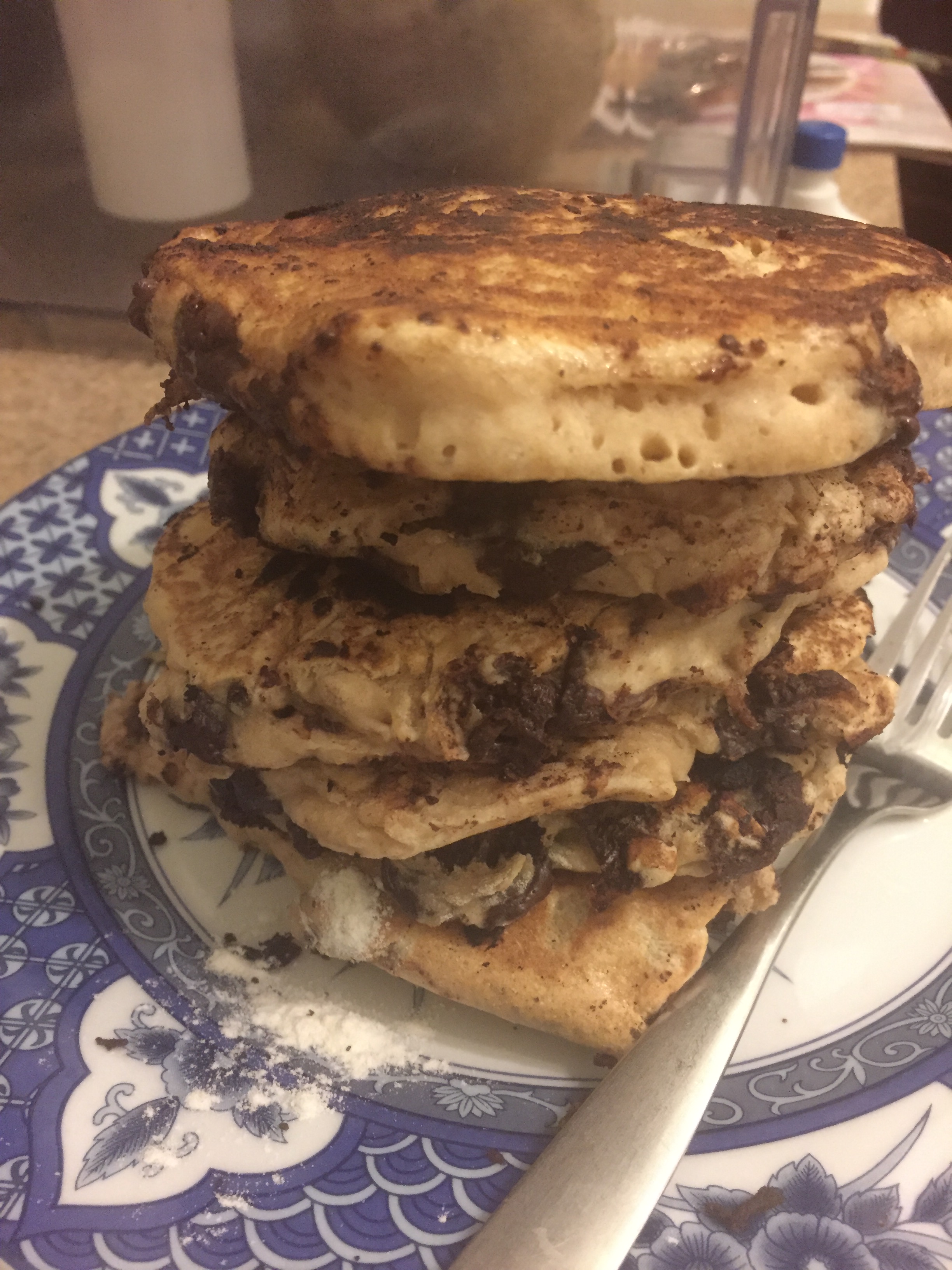 By Heather Francis, VRG Intern
As a runner and nutrition student, you could expect my favorite meal to be a loaded fruit salad or nice cream topped with kiwi and chopped nuts. Maybe it's a hearty green curry with potatoes or a fresh salad loaded with arugula and topped with flax seed. That's not the case; although I do love that entire list. My go to meal for breakfast or dinner are fluffy, moist, warm, and gooey chocolate chip pancakes. Of course, I do add a ton of fruit on top of the pancakes when I'm eating them.
I devour a stack of pancakes at least 3-4 times a week, and when I say a stack of pancakes, I'm talking The Leaning Tower of Pisa worth of pancakes. I have played around with different recipes, and have come up with my best and favorite one which I'm most-willing to share with you. Enjoy!
Serves 4-5
1 cup unbleached all-purpose flour
1 cup spelt flour (I use the brand Veganic Spelt Flour. I have tried using whole wheat flour, but spelt comes out a lot better and tastes terrific.)
1 cup organic cane sugar
2 teaspoons baking powder
½ teaspoon salt
1 cup almond milk
1 teaspoon vanilla
1 Tablespoon 100% pure dark maple syrup
½ medium-sized lemon (optional)
½ cup vegan dairy-free chocolate chips
½ pint blueberries, 1 banana, ½ pint strawberries, walnuts, pecans (optional add-ins)
1 Tablespoon Earth Balance Original Buttery Spread
1 teaspoon organic powdered sugar
1. In a medium-sized mixing bowl, sift the all-purpose flour, spelt flour, sugar, baking powder, and salt together.
2. Stir in the almond milk, vanilla, and syrup. Add more almond milk to desired batter texture.
3. Squeeze ½ the lemon into the mixture along with chocolate chips and optional other add-ins.
4. In a medium-sized skillet pan, over medium heat melt the Earth Balance butter and measure out three ¼ cups of the batter onto the pan.
5. Cook 1 to 2 minutes or until golden brown and flip them over and cook until golden brown. Make sure when making the pancakes they are completely cooked on the inside, test this by using a fork and putting it through the middle.
6. Repeat until you finish the batter.
7. Once they are all cooked, serve with blueberries, strawberries, bananas, and/or walnuts/pecans.
8. Top with powdered sugar and maple syrup.
9. You can then eat them like cookies or as regular pancakes.
Note on Syrup: You don't have to put syrup on these, they're sweet enough as is, but ever since I was a little kid I could not eat or make pancakes without drowning them in syrup. So of course, I buy the Whole Foods Dark Maple Syrup. Not too sweet and not processed with High Fructose Corn Syrup. The syrup may be expensive, but it's delicious and worth it. Also, when using it in the pancakes it's not as watery so it aids to the pancakes ability to stay intact.