Posted on September 30, 2016 by The VRG Blog Editor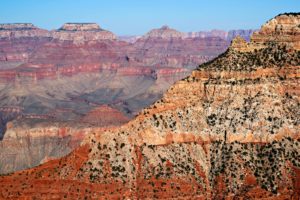 By Casey Brown and Heather Francis, Vegetarian Resource Group Interns
In conjunction with the 100th year anniversary of The National Park Service, over the past couple of months, we have been working on a project where we have been contacting the United States National Parks in hopes of finding out whether or not the parks offer vegetarian/vegan meals.
Over the course of the project we found most National Parks don't have any vegan options for their park services. What we discovered were convenience stores and snack shacks for many visitors to stop by as they are traveling through the parks. Most convenience stores contain trail mix, nuts, and various fruit selections for vegan and vegetarians alike. Since most don't have options, we have compiled a list of the National Parks with neighboring veg-friendly restaurants (if there are any). For the parks that do contain veg-friendly options, we added them to the list as well.
Although the list has taken two months to put together, it hasn't been super difficult to reach these parks. The park rangers and staff working for the National Park Service have been super receptive in answering our questions about whether or not their park has vegetarian and vegan options. For example, in Bryce Canyon National Park in Utah The lodge at Bryce Canyon Restaurant contains vegan options on their menu with a Gardein Chicken substitute for lunch/dinner. Also at Crater Lake National Park in Oregon the Crater Lake Lodge Dining Room offers two options for dinner that are vegan: Roasted Portobello and a Vegetable Pasta Dish.
To read the entire article, visit:
http://www.vrg.org/travel/doc/NationalParkDining.pdf