Posted on January 31, 2017 by The VRG Blog Editor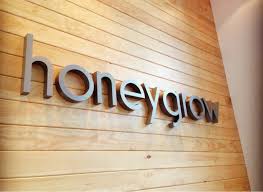 Honeygrow is a chain with clearly marked vegan options on their menu. Locations are in Maryland, Pennsylvania, Delaware, New Jersey, and Washington, DC. They will soon be opening up in Brooklyn, NY.
They offer stir-fry bowls including the Red Coconut Curry vegan option, which includes rice noodles, tofu, and veggies. You can easily substitute brown rice for the rice noodles, and alter the veggie choices in your bowl. Honeygrow also has a make-your-own stir-fry option where you can select Sour Cherry BBQ Sauce or Sesame Garlic Sauce, in addition to the Red Coconut Curry option. You then create your bowl with options including tofu, whole wheat noodles, brown rice, and a variety of veggies.
Additionally, Honeygrow offers a vegan kale salad made with mustard soy vinaigrette, green kale, organic roasted spicy tofu, apples, carrots, roasted beets, red onions, and radishes. There's also a make-your-own salad option, which can easily be prepared vegan.
Finally, their Honeybar dessert option can be made vegan. It includes fresh fruit, maple syrup (instead of honey), three fruits, and two toppings.
For further information, see: http://www.honeygrow.com