Posted on February 15, 2017 by The VRG Blog Editor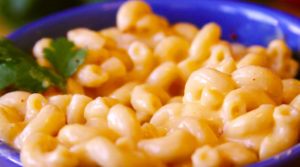 More than 1000 people came in 2016. They wanted the creamy mac 'n cheese goodness… without the dairy. And the Mac 'n Cheese Smackdown delivered. Now it's back, and anchoring the city's first citywide Vegan Weekend in Baltimore.
Baked, stove top, bubbly, or slow-cooked – mac 'n cheese expresses the style of the individual making it. Experience the best Baltimore has to offer on Saturday February 18th at the 2nd Annual Vegan Mac 'n Cheese Smackdown, where local chefs and cooks will compete for vegan-cheesy excellence. The Vegan Mac 'n Cheese Smackdown will be held from 3:00 PM to 7:00 PM at the Baltimore City Community College, 2901 Liberty Heights Ave, Baltimore MD 21215.
Contestants' vegan mac will be judged on mouth feel, taste and texture. Categories include Best Overall Mac 'n Cheese, Best Gluten-Free, Best "From Scratch" (ie, no processed ingredients), People's Choice, and Most Like Grandma's. This event is open to the public and costs $10 in advance or $15 at the door. More than 1500 guests are expected to taste the city's finest in vegan mac n'cheese! The Vegan Mac 'n Cheese Smackdown is a fundraiser for THRIVE Baltimore.
Thrive Baltimore is a dynamic community resource center located in the Station North community of Baltimore City. Run by a collective of food, environmental and social justice activists, our mission is to provide education, resources and support to anyone interested in adopting a healthier, more sustainable lifestyle. Part of Thrive Baltimore's mission is to provide free plant-based cooking demos, nutrition lectures, food tastings, film screenings and other fun, informational programming in an open, socially conscious environment that makes it a space where all are welcome. We're dedicated to encouraging people to make healthier, kinder choices that will enable them to live more sustainable lifestyles.
The Smackdown is part of the first city-wide Vegan Weekend, featuring a veg food crawl around the city on Friday Feb. 17 with more than 20 Baltimore restaurants offering plant-based specials. On Saturday night, the fun continues with an AfterParty at Thrive Baltimore and on Sunday Feb. 19, local eateries will offer a Vegan Brunch, followed by a Vegan Pizza Party at Paulie Gee's in Hampden.
Event sponsors include PEP Foods, Baltimore Vegan Drinks, A Well Fed World, Better Health Better Life, Open the Cages Alliance, Follow Your Heart, MOM's Organic Market and EmbroidMe.
Website & Tickets:http://www.pepfoodsinc.com/fundraisers/#macncheese