Posted on April 25, 2017 by The VRG Blog Editor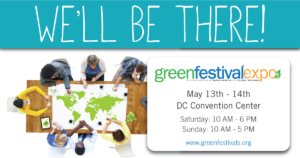 Green Festival® is a vibrant, dynamic marketplace where companies and organizations come to showcase their green products and services, and where people go to learn how to live healthier, more sustainable lives.
Green Festival offers something for everyone, with the widest selection of products and services to work green, play green and live green from food, fashion and health to energy, construction and design. People can shop and enjoy vegan, vegetarian, organic foods, hands-on demos, educational activities and inspirational speakers.
Come see The Vegetarian Resource Group at the DC GreenFest show and you will receive $5.00 off your ticket when buying tickets using the code XDC17798D here:
https://www.greenfestivals.org/washington-d-c-2017-may-12-14.html#!014