Posted on May 09, 2017 by The VRG Blog Editor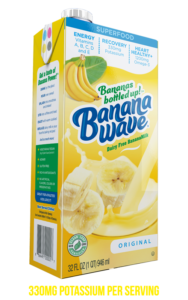 Fresh Start Beverage Company has released a product called Banana Wave, which is a banana milk alternative. It is advertised for use as a beverage, to make smoothies or hot beverages, and for baking and cooking. It has 150 calories per 8 ounces, with 5 grams of fat, 4 grams of protein, 2 grams of fiber, and 125 mg of sodium. It is listed as Vegan, kosher, and gluten free.
Ingredients include water, banana purée, organic soybeans, gluten-free oats, flaxseed oil, organic cane sugar, carrageenan from seaweed, and a vitamin mix.
According to VRG's Food Service Advisor, Chef Nancy Berkoff,, when poured, the product is light gray, pleasantly thick and has a light banana flavor. It does well as a beverage when chilled, works well as a cooking liquid for items that tolerate a slight banana flavor, such as hot cereals, rice (think: coconut rice or rice pudding), and baked items. It also freezes well as an ingredient for a frozen dessert.
For further information on this product, see:
www.bananawave.com