Posted on May 24, 2017 by The VRG Blog Editor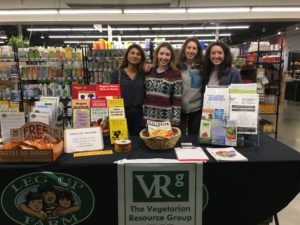 By Julia Mathew
I originally came across the intern position at The Vegetarian Resource Group after an exhaustive online search to find an internship suitable for credit towards my Environmental & Sustainable Studies minor. I read some of the previous interns' experiences working at The VRG and knew that it would be a good fit for me due to its diversity of responsibilities and projects, as well as its general goal of educating the public about veganism. I was also particularly interested in learning about how small businesses and non-profits work.
I interned at The VRG during the Spring 2017 semester of my senior year at Loyola University Maryland. I worked on many articles during my internship about subjects that related to my personal interests, such as traveling. I wrote various vegan city guides and reflections of my experiences as a vegan in Copenhagen, Stockholm, Helsinki, and Reykjavik, as well as a restaurant review of Hiltl in Zürich. I also wrote an article about some of my mother's South Indian recipes and conducted an interview with a vegan chef to be published in the Vegetarian Journal.
I also helped write product reviews for various brands such as Laughing Giraffe Organics, Good Karma Foods, Munk Pack, Hodo Soy, Breyers, and Talenti. First, I contacted companies requesting samples on behalf of The VRG for the Veggie Bits section in Vegetarian Journal. Then I and others sampled the food and wrote a brief review for the successful products. I sampled many delicious vegan products such as flax milk yogurt, gyro slices, almond milk ice cream, and oatmeal squeeze packs.
Another weekly task I had was to assist in updating VRG's online restaurant guide by researching vegan-friendly establishments within the United States and Canada. I also participated in The VRG college scholarship review process by assessing applicants' essays, as well as reviewed video submissions for VRG's video contest. I was given the opportunity to represent The VRG at various events through outreach booths at Leg Up Farmers Market in York, Pennsylvania, Green Festival in D.C., and Harford County Earth Day Festival in Aberdeen, Maryland.
I really enjoyed my VRG internship and learned a lot about the vegan movement both in and out of the office. I made many valuable connections with fellow vegans and activists. I turned in a portfolio for credit to my minor advisor that included most of my work for The VRG. Much to my surprise, it ended up being over 30 pages long! I never realized how much I wrote for the VRG because I was so interested in and excited to do my projects. Subsequent to my internship, I will continue to volunteer at The VRG for future events such as Central PA VegFest, the Animal Rights Conference in VA, and DC VegFest. To intern for The Vegetarian Resource Group, see:
http://www.vrg.org/student/index.php
To support The Vegetarian Resource Group internships, donate at:
www.vrg.org/donate
Or join The Vegetarian Resource Group at:
http://www.vrg.org/member/cabdacae.php