Posted on May 31, 2017 by The VRG Blog Editor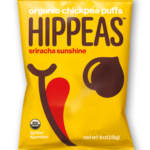 Each issue of Vegetarian Journal has a column called Veggie Bits. Here we review vegan products that we think readers would want to know about.
We reviewed these items:
Rigoni di Asiago's Hazelnut Spread
Pure Genius Brownies (40 percent made from chickpeas!)
Back to the Roots Cereals
Hippies Organic Chickpea Puffs
Sabra Spreads (packaged in squeeze bottles!)
Yuve Protein (Chia Seeds and Cocoa flavor)
Edward & Sons (Let's Do…Organic) Banana Flour and Heavy Coconut Cream
Click here to read the most recent Veggie Bits!
To subscribe to Vegetarian Journal, see:
Subscribe to Vegetarian Journal