Posted on October 11, 2017 by The VRG Blog Editor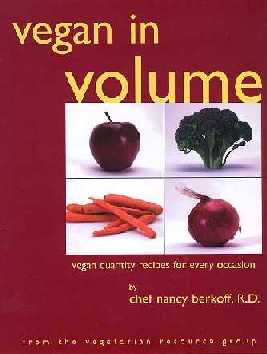 Vegan in Volume is published by The Vegetarian Resource Group and has been greatly received by people working in the food service sector, as well as those that enjoy throwing parties in their own home or simply cooking in volume. This book by Chef Nancy Berkoff, EdD, RD offers 125 vegan recipes serving 25. It also offers a lot of helpful advice including A Fast Course in Vegan Nutrition, The Mechanics of the Operation, Food Safety Pointers, and a section on Vegan Ingredients.
The quantity recipes greatly vary depending on the audience you'll be serving. Nancy includes recipes for breakfast such as Lots of Grains Pancakes and Peachy Keen Breakfast Crumble. A section for kids serves up Squiggly Noodles and "Not-Meatballs." For dinner parties and elegant dining for adults try French Onion and Olive Tart and Eggplant "Caviar."
You will also find quantity recipes for special occasions such as weddings, anniversaries, birthdays, bar/bat mitzvahs, communions, and more. Enjoy Watermelon Gazpacho, Spicy Bean Cakes with Fruit Salsa, Curried Vegetables with Polenta, and Sophisticated Poached Pears. Next, move on to college campuses and try Vegetable Tagine, Two Alarm Four Bean Chili, Jumpin' Veggie Jambalaya, and Gooey, Chewy Peanut Butter Bars.
Grab and Go Fast Food recipes include Sweet Potato Burgers, Cold Noodles with Peanut Sauce, and Fragrant and Fast Tofu Sandwich. Un-Hospital Food items include Orange and Wild Rice Salad, Sweet Potato Soup, New England Baked Beans, Eggplant Lasagna, and Cinnamony Baked Apples. And a section for senior citizens includes recipes for Chesapeake Corn Chowder, Southwest Tomato Rice, Pasta with Vegetable-Marinara Sauce, and Homestyle Molasses Cookies.
Vegan in Volume can be purchased from The Vegetarian Resource Group Book Catalog: http://www.vrg.org/catalog/