Posted on December 18, 2017 by The VRG Blog Editor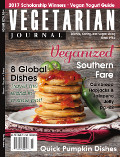 The latest issue of Vegetarian Journal includes reviews for the following products:
Crazy Go Nuts tried something different and created a delicious line of walnut butters. They offer eight vegan flavors of walnut butter: Plain, Banana, Orange, Coconut, Oatmeal Cookie, Chocolate Espresso, Sage Rosemary, and Buffalo. The spreads have a smooth and creamy texture, and the flavors are true to their name.
Bella Gluten-Free offers a Gourmet Italian Pizza Crust Mix that can go from "cup to table in 22 minutes," making it easy for you to prepare a personalized pizza! All you need to add is water, oil, and an egg alternative (a flax egg or chickpea water work great).
Amy's Kitchen combined two of our favorite things — pizza and cinnamon rolls — to form a delicious and savory product. Amy's Vegan Margherita Swirls are satisfying, bite-sized rolls that taste like pizza.
Good Karma Foods has mastered taste, texture, and consistency with their new flax milk yogurts.
Pearls Olives released a new line of certified organic olives, which includes their two most popular flavors: Pitted Kalamata Greek Olives and Red Pepper Stuffed Green Olives.
Milkadamia Latte Da, a vegan milk made from macadamia nuts does indeed "foam beautifully" as the box touts. You won't get quite the same results as with dairy milk, but it's the closest we've seen.
Farmhouse Culture makes Kraut Krisps, corn chips made with probiotics from sauerkraut. Probiotics are live bacteria that add to or replace the beneficial bacteria in the digestive tract. There are four Kraut Krisp flavors: Dill Pickle, Smoked Jalapeno, Zesty Garden Veggie, and Sea Salt.
To read the entire article, visit:
http://www.vrg.org/journal/vj2017issue4/2017_issue4_veggie_bits.php
To subscribe to Vegetarian Journal, go to:
Subscribe to Vegetarian Journal